Sen. Brown: 'Only Reason' Things Getting Done In DC Is 'Because I'm There,' 'Working Hard Across The Aisle'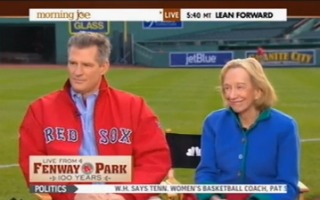 On Friday, the folks at Morning Joe — reporting live from Fenway Park in celebration of its 100th anniversary — sat down with both Massachusetts' Democratic candidate for its state senate election, Elizabeth Warren, and the state's incumbent senator Scott Brown. Host Joe Scarborough apologized to Brown for having solely given Warren a kiss.
"You think I should kiss him?" Scarborough asked. "Because I kissed Elizabeth on the cheek. And I actually — I said, 'Can i kiss you?' And he goes, 'Whatever, man. Whatever, man.'" Antics!
RELATED: Karen Santorum: Scott Brown's "Protection" Joke Was "Sort Of Funny"
Later, Mika Brzezinski and Scarborough readily agreed that Massachusetts' senate race has "two of the best candidates we've seen in a long time running against each other."
"I am more of an Elizabeth Warren supporter," Brzezinski admitted. "I'm more of a Scott Brown guy," replied Scarborough. "But I have to say," Brzezinski added, "I like Scott too." And "I like Elizabeth, too," said Scarborough. Xoxo!
Brown — who shared that he's not too worried about recent polling info that show he and Warren are neck-and-neck — went on to note that things are "getting done" in this state "because I'm there" working across party lines:
The only reason that we are getting things done is because I'm there and we're working hard across the aisle finding people of good will to solve problems. I'm a problem solver, Mike, you know that. You've followed me forever. And the fact that I'm working across party lines, reading the bills, understanding them, seeing how they affect our deficit and voting, you need people like me to do more of that.
Presidential historian Doris Kearns Goodwin went on to praise Brown for referring to himself as a moderate, adding that we need more of that in Washington.
Watch, via MSNBC:
Have a tip we should know? tips@mediaite.com