Shep: 'Don't Say Nobody Warned You When Some TSA Agent Starts Touching Your Pie'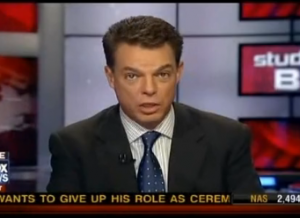 When it comes to the TSA and its "enhanced" security protocols, well Fox's Shepard Smith is going into Katrina mode–well, sort of.
Put it this way: he's on fire.

You may already have seen Shep warn that "if you touch my junk, I'm going to file a lawsuit against you," and he took his displeasure over "junk touching" pat downs directly to TSA Chief John Pistole. But now we may have seen Shep at his sarcastic best. In a fifty second bit of brilliance on Studio B Tuesday, Smith took the TSA's own holiday guidelines to task:
"Hey folks, if you're planning to fly to grandma's or whatever and you want to take some food along, keep this in mind: you can't take cranberry sauce, no cologne, no creamy dips, no spreads, no cheeses, no peanut butter, no gift baskets with food items, no salsa, no jams, no salad dressings. No gravy, no jellies, no jams, no lotions, no maple syrups, no oil, no vinegar, no salad dressing, no salsa, no sauces, no soups, no wine, no liquor, no beer. And of course, no snow globes. Death by snow globe can be a horrible thing.
If only it was a bit shorter, it ought to be a ringtone. It's that good.
Smith adds:
You can take pies and cakes through the security checkpoint, but be advised, they are subject to additional screening. So if your pies and cakes don't like an additional pat down, don't put them through screening.
Amen, brother. Amen. And travelers, don't say nobody warned you when some TSA agent starts touching your pie.
Watch it–over and over again–here, from Fox:
Have a tip we should know? tips@mediaite.com