Shepard Smith Questions Justice Dept.'s "Revisionist History" On Times Sq. Bomb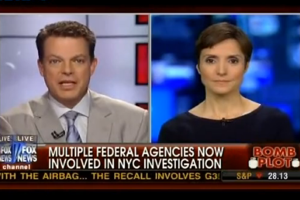 While the aftermath of the attempted Times Square bombing has been overwhelmingly positive, the frightful possibility of a successful Times Square bombing was still looming over Studio B, where Shepard Smith repeatedly emphasized that the good news on Sunday morning could largely be attributed to luck, and that claiming the t-shirt vendor heralded for calling the police "thwarted" the bomb was simply "not true."
Covering the latest Justice Department press conference with Fox News correspondent Catherine Herridge, Smith repeatedly emphasized that the bomb was faulty, police were notified of the suspicious vehicle only after the bomb's detonator had failed. In his opinion, Attorney General Eric Holder was giving too much credit to the civilian who notified the authorities as the bomb had already "gone off" when he called the police. Holder had stated that the alert bystander "helped save lives, and thwarted a potentially devastating attack," to which Smith replied: "this bomb was not thwarted– this bomb failed." Smith's issue was not with the civilian, who he praised, but with the federal authorities, which he speculated wanted to be able to use the instance as proof of their successes in the future:
"I can think of a lot of different reasons that they would want this. For instance, down the road, next time something happens, they can say 'we thwarted Christmas Day' and 'we thwarted Times Square,' but that wouldn't be the case. And part of our job, I think, is to not allow revisionist history to take over."
It's worth noting that Smith also reserve praise for the Justice department – and Holder – for the successful efforts to apprehend the individual alleged to have tried to blow-up an S.U.V. in Times Square. But he made very clear that, in his eyes, this was not a thwarted effort, but a failed one.
Watch the clip from Studio B below:
Have a tip we should know? tips@mediaite.com