Soledad O'Brien Takes On Sen. Johnson Over Hillary Clinton Criticism: 'You're Playing Politics Too'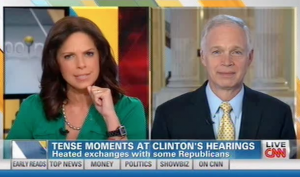 Sen. Ron Johnson (R-WI), who elicited a heated reaction from Secretary of State Hillary Clinton during yesterday's approach, appeared on Starting Point this morning — where Soledad O'Brien questioned the remarks he's made about Clinton's "theatrics" and emotional response.
"I was trying to be respectful," Johnson said, noting he'd asked a "pretty simple" question. As O'Brien replied that Johnson said it was a "good excuse" when Clinton asserted she didn't want to interfere in the process. It was a "dodge," he replied, going on to revisit the "what difference…does it make?" remark.
"This administration has been hiding behind an FBI investigation, and then a 60-day Accountability Review Board report just happened to land after the election," he said. "So they were playing election politics, no doubt about it."
"Someone could've argued, senator, that you're playing politics, too," O'Brien responded, pointing to his BuzzFeed interview wherein he said:
"I'm not sure she had rehearsed for that type of question," Johnson told BuzzFeed Wednesday afternoon, after the Senate Foreign Relations Committee hearing. "I think she just decided before she was going to describe emotionally the four dead Americans, the heroes, and use that as her trump card to get out of the questions. It was a good way of getting out of really having to respond to me."
"It sounds to me like you're saying a lot of that was faked," she added.
"I was responding to a question, maybe I shouldn't have speculated," Johnson replied, circling back to his point that we need to get to the bottom of what happened. O'Brien pressed further with the BuzzFeed interview, with Johnson's answer returning to his earlier point about the administration hiding behind an FBI investigation.
"There is a failure of leadership before this, and certainly after this, and we need to correct those problems," he said.
"But, sir, you accuse her of crying and being emotional as a good way of getting out," O'Brien replied. Johnson denied doing so, spurring O'Brien to again read the quotes from the interview. And again, Johnson said he shouldn't have speculated — but that the point is that the American people deserve the truth.
Take a look, via CNN:

Have a tip we should know? tips@mediaite.com