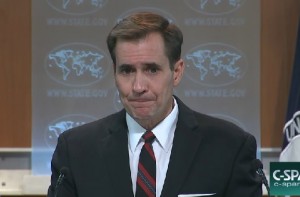 The State Department announced Wednesday that an investigation had determined that a portion of a 2013 press briefing had been deleted by a member of its staff, and not a "glitch" as they originally claimed.
Back in December 2013, then-spokeswoman Jen Psaki strongly implied in an answer to a question from Fox News' James Rosen that State Department policy was to lie to reporters if it meant maintaining secret diplomatic negotiations. But when Rosen went back to grab that clip last month, he noticed that the exchange had been deleted from the briefing video on the State Department website and YouTube.
State Department spokesman John Kirby said that after Rosen pointed out the omission, he requested that State Department lawyers look into the matter. "They learned that a specific request was made to excise that portion of the briefing. We do not know who made the request to edit the video, or why it was made," he announced.
Other than that, Kirby could provide little other details, despite prodding and questions from the reporters present. The request was made over the phone on the same day of the briefing, he said, but the person who made the edit could not recall who requested it. Kirby said he was not aware of any other instance were briefing videos were edited, but could not promise it hadn't happened before.
He also announced a new policy, in which every which every video would be posted immediately and edits would be properly disclosed. "There were no rules governing this sort of action in the past, so I find no reason to press forward with a more formal or deeper investigation," he said.
Watch the exchange above, via CSPAN.
[Image via screengrab]
——
>>Follow Alex Griswold (@HashtagGriswold) on Twitter
Have a tip we should know? tips@mediaite.com