The Best Of The O'Reilly-Stewart Debates: Part 2- The Rise Of The 'Stoned Slackers'
Best Of The O'Reilly-Stewart Debates: Part 2- Rise Of The 'Stoned Slackers'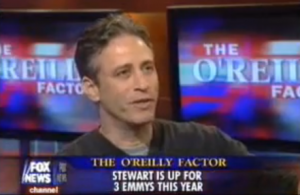 With the announcement that Bill O'Reilly will be squaring off with Jon Stewart on October 6 in a "rumble" at George Washington University, we at Mediaite thought it would be interesting to go back and highlight some of the most interesting and/or heated debates between the two cable news giants throughout the years. Both men have appeared on each other's shows from time to time, and whenever they face off, the end result is nothing if not wildly entertaining.
O'Reilly opened this 2004 interview on The Factor by telling Stewart it was "frightening" that a comedian such as himself could have an impact on the election. He described the Daily Show audience as "stoned slackers" whose opinions are shaped watching Stewart riff on the election. Stewart countered that the motivation for stoned slackers to actually do anything is quite low, hence the moniker.
O'Reilly told Stewart he couldn't believe John Kerry bypassed his show for a sitdown on Comedy Central. Stewart joked that he has a better snack selection than O'Reilly for guests, and dismissed the idea that being on his show would do anything big to help the Democratic nominee. Stewart argued that the only influence the show has is "peripheral" at best, and nothing at all like what O'Reilly was implying.
O'Reilly continued to prod Stewart about the political influence of his show, asking him what he wants to get out of a one-on-one with the Democratic candidate. Stewart admitted he was "uncomfortable" going minutes at a time on the show without a good laugh, and said that he considers The Daily Show "a comedy about the things we care about." O'Reilly pushed Stewart about what Kerry gets out of going on Comedy Central. Stewart said that like any good politician, Kerry wants to market himself to every reachable audience. O'Reilly said it was more about Kerry being "hip" with the young people.
And throughout the interview, O'Reilly peppered his remarks with continued references to Stewart's legion of "stoned slackers." And with weeks to go until the 2012 election, is that the demographic Barack Obama needs to win over? Will this be the third election in a row the Democratic nominee comes on The Daily Show?
Watch the video below:
—–
Follow Josh Feldman on Twitter: @feldmaniac
Have a tip we should know? tips@mediaite.com
Josh Feldman - Senior Editor