The Cycle Explodes When Touré Insists Obama Knows the Senate Is Not in Play in 2014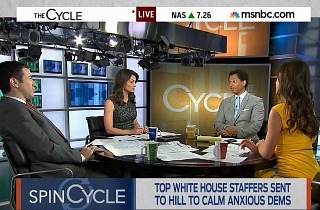 MSNBC host Touré dismissed the concerns of his fellow hosts of The Cycle on Thursday when he insisted that the red state Democrats supporting proposals to scale back the Affordable Care Act represent a broader shift in the party away from supporting the ACA. He also insisted that the Senate was not in play in 2014, a conviction that his fellow panelists did not share.

Discussing the proposal by Sen. Mary Landrieu (D-LA), who has backed a plan that would allow those who are losing their health care plans to keep them through next year, Touré said that this was a reflex by Democrats who believe they may be vulnerable.
"Democrats remain extremely supportive of the ACA," Touré said. "We see red state Democrats who are dealing with the challenge of living and governing in a gerrymandered world, where sometimes they have to deal with what the folks on the right – very low support on the Republican side of this – but the folks on the right want."
RELATED: NBC's Chuck Todd: Democratic 'Wave' in 2014 'More Possible Than Some People' Think
Touré added that Landrieu is an "outlier" who often "bucks her party."
"You're saying Democrats aren't at all concerned about Obamacare controlling the narrative for the coming election?" Abby Huntsman asked.
Touré said that he was not seeing blue state Democrats supporting Landrieu's proposal, indicating that they are not concerned about the ACA.
"But they're the only ones who have a tough election," Krystal Ball said of the jumpy red state Democrats. She added that Democrats are not well served unless they can vote on a proposal to fix the ACA. Having to campaign on the message of "you've got to trust the president" is problematic for vulnerable Democrats.
"The president may care about certain individuals," Touré said. "But he understands, in the meta narrative, the House is not in play. The Senate is not in play."
"Yeah, the Senate is in play," Ball protested.
"No, it's not," Touré insisted. "It will continue to be blue. There's no chance. Post-shutdown?"
The panel exploded after Touré suggested this, with virtually every panel guest insisting he is incorrect.
Watch the clip below via MSNBC:
[Photo via screen grab ]
— —
> >Follow Noah Rothman (@NoahCRothman) on Twitter
Have a tip we should know? [email protected]