The Ed Show: Utah Parent Shockingly Not Cool With Teachers Secretly Carrying Guns In School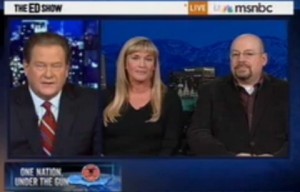 On Wednesday night's The Ed Show, host Ed Schultz interviewed Utah elementary school teacher Carolyn Cain, who was certain that parents in her school district would be totally fine with her bringing a gun to school, but didn't think they had any right to know about it.At least one of those parents was watching last night, and appeared on Thursday's Ed Show to explain that he is, indeed, not cool with it. You can also let Ed know how you feel by answering the Tommy Christopher-approved Ed Show poll question, "Would you send your kids to school with armed teachers?"
In case you missed it, Ms. Cain revealed, Wednesday night, that Utah state law allows teachers to carry concealed weapons to school (actually, anyone with a concealed carry permit can bring a loaded gun into a school), without telling parents about it, and went on to say that she, personally, didn't feel parents had any right to know if their children would be sharing space every day with a loaded gun. Still, despite the fact that she wasn't sure she could even keep the kids from getting ahold of her gun, Cain felt certain that local parents "know that I love their children, and I wouldn't put them at risk in any way."
Not so fast, says Bill McGee, father of four children in Cain's school district, who appeared on The Ed Show Thursday night to express his displeasure at the situation. McGee was joined by a district spokesperson, who didn' t offer much beyond confirming details of the state law, and to reveal that not even school administrators know who is packing more than a lunch at school.
"It's not something that administrators require employees to share, that information," spokesperson Rhonda Bromley said. "It's not something that the teachers or the employees should be talking with their students about. It's supposed to be concealed. And that includes being physically not seen by the students, but also, they shouldn't be talking about it with people and letting people know they have one."
"Bill, as a parent with children in the schools in that district, what's your reaction to that?"  Ed asked.
"I don't like it," McGee replied. "I think that, you know, we've really got two approaches here. We can either arm all of our teachers and bring guns closer to our children, or we can make laws that remove guns and pull guns further away from kids. And if a teacher has access to a gun, then children have access to that gun."
Good points, all. Then, McGee said "And if the children don't have access to the gun, then what point is it if the teacher can't get to it quickly?"
Okay, but Mr. McGee isn't the one asking to pack a loaded pistol in a classroom full of 5 year-old distraction machines.
He went on to say "I think if a scenario came up they're just going to compound the problem, and I would rather my children had a teacher that was focused on teaching, instead of being an armed vigilante."
Bromley also added that carrying guns in school is "not something that, as district officials, we're promoting and we're encouraging people to do, but we're certainly supporting the state law."
Mr. McGee also laid out the risk of arming a jumpy, inexperienced teacher. "Let's say, God forbid, there's a scenario where a teacher feels compelled to defend herself or the children, and you've got that high pressure environment, tunnel vision, inability to really use your peripheral vision, all those things that happen in those kinds of scenarios. And you get children between that teacher and whatever the perceived threat is. And I think you've got a huge mess on your hands. The teachers aren't prepared."
Bromley agreed that "somebody that isn't using that expertise every single day, like maybe a law enforcement officer is, that is a concern, and that's why that's something that we're continually talking about with our employees, and what the examination is if they do have a permit."
According to a recent poll, only 27% of Americans favor arming teachers, and even having police officers in schools only gets 41% support. In Ed's poll, 92% of viewers said they would not send their kids to school with armed teachers, versus 8% who would. Now that they know, Utahnians might not leave this law the way it is for long.
Here' s the clip, from The Ed Show:
Follow Tommy Christopher (@TommyXtopher) on Twitter.
Have a tip we should know? tips@mediaite.com