The Five Goes After Obama For Visiting Jersey Shore, Oklahoma: What About The 'Victims In 3 Scandals?'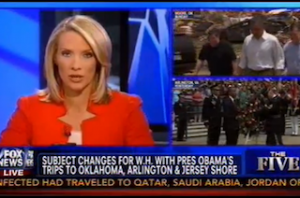 President Obama used his Memorial Day weekend to visit areas that were hit hardest by natural disasters in recent weeks and months. But the hosts of Fox News' The Five think the president was doing more than just comfort the victims of the Oklahoma tornado and celebrate the resurgence of the Jersey Shore. Was Obama really just trying to make everyone forget about those three big scandals?

"The presidency must go on despite the three big scandals rocking the administration with Congress in recess," Dana Perino stated at the top of the show. "The White House could certainly use this week to shift focus away from them."
Eric Bolling said he understands why Obama decided to visit Oklahoma after last week's devastating tornado, but the timing of the New Jersey trip, complete with more Governor Chris Christie photo-ops, seemed a little too good to be true. "I'm pretty sure that he made that spin around the Jersey Shore to kind of get people's attention off the three scandals." But, he said, it's up to the media to keep Benghazi, the IRS and the DOJ subpoenas "in the news."
Regarding the president's trip to Moore, Oklahoma, Andrea Tantaros found Obama's words "effective," saying "it appears he wants to stand with victims." However, she added, "there are victims in the three scandals. The conservative groups, James Rosen, the Associated Press and of course the families of the Benghazi fallen. So, I do think he is trying to just distract, hope this story goes away."
As Bob Beckel said to his co-hosts, "these scandals are not going to go away, they're going to be around for you to pick on him next week." But, in the meantime, Obama is still the president of the United States.
Watch video below, via Fox News:
—
>> Follow Matt Wilstein (@TheMattWilstein) on Twitter
Have a tip we should know? tips@mediaite.com