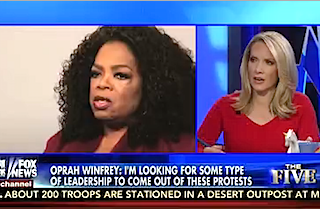 Fox News' The Five has a long history of disagreement with Oprah Winfrey, but the hosts found themselves on the same page as the media mogul Monday after her comments regarding the Michael Brown and Eric Garner protests drew criticism from the protesters.
"It's wonderful to march and to protest and it's wonderful to see all across the country people doing it," Winfrey, who appears in the film Selma, told People magazine over the weekend, "but what I am really looking for is some type of leadership to come out of this to say, 'This is what we want. This is what has to change, and these are the steps that we need to take to make these changes, and this is what we're willing to do to get it.'"
Those comments drew a harsh backlash from those in the protest movement, who believe they're highly-visible actions have more powerful that the words of any leader.
"She's exactly right," Bob Beckel said of Winfrey's remarks. "Her new movie Selma is coming out, which is one of the key moments in the Civil Rights Movement where there really was leadership with Dr. Martin Luther King." He contrasted King with the "discouraging thought" of Al Sharpton as the movement's new leader.
"I don't understand the criticism of Oprah for those comments," Dana Perino added. "I don't think she can be faulted for caring. She cares a lot. She's done a ton. I think she's been a good ambassador for not just the black community, but for all offense America, everyone loved Oprah and I think she's got every right to say what she has, and I actually wish that more people like her would talk and that would basically get this guy, Al Sharpton, off the front page."
When it was Greg Gutfeld's turn to speak, he decided to comment solely on Sharpton — as has been a trend of late on Fox — and not at all on Winfrey, but the sentiment of the group was clear: Oprah's got a point.
Watch video below, via Fox News:
[Photo via screengrab]
— —
>> Follow Matt Wilstein (@TheMattWilstein) on Twitter
Have a tip we should know? tips@mediaite.com