The Five Rips HBO's 'Liberal Fantasy' The Newsroom For 'Glorifying' Occupy, Mocking 'American Taliban'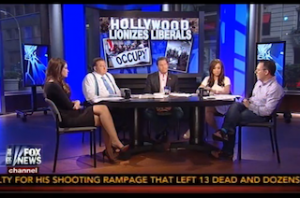 With HBO's The Newsroom returning for a second season next month, The Five's Greg Gutfeld thought now was a good time to look ahead at how the show plans on treating various political stories when it comes back. The host slammed the "liberal fantasy" drama for trashing the "evil" tea party movement while glorifying Occupy Wall Street. "Hollywood gets everything wrong again," Gutfeld said.
Even Bob Beckel, who said he mostly enjoys Aaron Sorkin's show about a fictional cable news show, said it rankled him when the lead character on the show, Will McAvoy, played by Jeff Daniels, called the tea party the "American Taliban." Of course, in the context of the show, it's meant to be an incendiary, controversial statement.
Eric Bolling summed up his take on the show and Hollywood in general by saying "they villainize the tea party and they hold Occupy communist freaks up on a pedestal."
And Kimberly Guilfoyle agreed, finding it "ridiculous" how the show appears to "glorify" Occupy Wall Street while demonizing the right. "What is the tea party guilty of?" she asked. "Free speech? Wanting smaller government? Not wanting an out of control IRS?"
Part of the conceit of The Newsroom is that it's set in the recent past and during a recent panel discussion Sorkin revealed that the second season would cover most of 2012, with a focus on the presidential election.
During his intro, Gutfeld asked "When was this series written?" in response to a scene from the trailer that shows a character hearing about the Occupy movement for the first time. We will have to wait until the episodes play to find out exactly how the characters' perceptions of the movement evolve over the course of the season.
Watch video below, via Fox News:
—
>> Follow Matt Wilstein (@TheMattWilstein) on Twitter
Have a tip we should know? tips@mediaite.com