'The Story Is Just Starting': Fox Hosts Go After Senate Democrats For Previously 'Encouraging' IRS Bias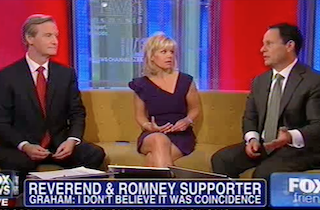 Fox & Friends found time on Wednesday to discuss the handful of issues the White House is currently juggling — and among them was the scandal involving the IRS. The Fox hosts were especially outraged about this one, with Steve Doocy in particular growing frustrated with reports of Senate Democrats having some sort of involvement in the matter. "Unbelievable" summed up the sentiments.
"The story is just starting," Gretchen Carlson posited. "If you go back and look in time in 2010 and again in 2012, there were a group of Senate Democrats who were encouraging the IRS to look into Tea Party organizations because they felt that they shouldn't even be granted this kind of nonprofit status."
The upsetting aspect is learning who else may have been targeted, she added — such as Mitt Romney supporters and Rev. Billy Graham, whose son penned an angry letter in response to the "morally wrong and unethical" actions.
As for the IRS' response to the whole ordeal, Brian Kilmeade scoffed at the agency's insistence that the targeting had no political motivation. Perhaps, he suggested, the scrutiny should have extended to groups like Media Matters and MoveOn.org.
"It sounds like there could have been pressure from the Senate Democrats," Doocy later reiterated — as Carlson questioned the potentially criminal aspect of the issue: leaking the private information from the audits to left-leaning groups. Now, of course Democrats are saying the whole ordeal is terrible, Doocy added.
To that point, Doocy rounded out the segment with a graphic displaying IRS employees' political donations, which showed roughly $50,000 going to President Obama and about $20,000 to Romney. That's reflective of the agency's "demographics, party wise," he observed.
Take a look, via Fox News:

Have a tip we should know? tips@mediaite.com