The View Confronts Ben Carson on Abortion: You Should Be 'Applauding' Planned Parenthood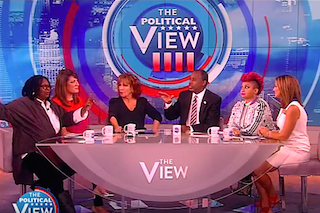 Ben Carson became the latest presidential candidate to brave The View on Tuesday, sitting down with the daytime talk show hosts for two full segments that covered everything from last week's mass shooting in Oregon to the theory of evolution. But it wasn't until after a commercial break, when Whoopi Goldberg brought up Carson's "war on what's inside of women" comments that things really started to heat up.
"We're killing babies all over the place," Carson explained, referring to abortion. Asked if he has any empathy for the women who are forced to make the difficult decision of whether to bring a child into the world or not, Carson said he's "very empathetic" towards them.
"What we need to do is make sure we provide adequate daycare centers for these mothers so that they can get their GED," Carson said. At this point Goldberg interrupted him, saying, "You're assuming that these are mothers who are not educated."
"I'm talking about most of them," Carson said to groans from the show's co-hosts and audience. He continued to discuss "young girls" who have babies "out of wedlock" and then stop their education and end up growing up in poverty. "We as a society have an obligation to do what's necessary to stop that cycle from occurring," he added, without allowing that abortion could be one tool in that arsenal.
Watch video below, via ABC:
With that "cycle" in mind, Joy Behar asked Carson if, like many conservatives, he is also against birth control. "They should be out there applauding Planned Parenthood for providing birth control," she said of the Republican Party.
The candidate surprised her by saying, "I don't speak for the Republican Party" and confirming that he does not oppose birth control.
But while Carson is apparently in favor of many of the services Planned Parenthood provides, he has been just as strong as the rest of his GOP rivals in his denunciation of the women's health organization.
Back in August, he said of Planned Parenthood, "One of the reasons that you find most of their clinics in black neighborhoods is so that you can find a way to control that population." A day later he claimed that "the number one cause of death for black people is abortion." (If you ask the CDC, it's heart disease.)
Yet, at the same time, it emerged that Carson had used that same type of fetal tissue in his research as a pediatric neurosurgeon that Planned Parenthood has been accused of "selling" for profit, a claim that has been repeatedly refuted by official sources.
[Photo via screengrab]
— —
>> Follow Matt Wilstein (@TheMattWilstein) on Twitter
Have a tip we should know? tips@mediaite.com