The West Coast Audience Of 30 Rock's Live Show Got Brian Williams As A Sexist Anchor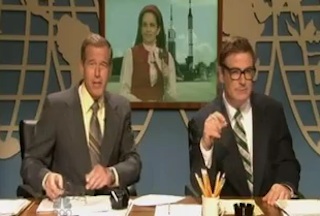 Last night, for the second time, the 30 Rock crew shuffled a few floors over to the SNL set to do an entirely live episode. Like the first time, they did two versions; one for East Coast audiences and one for West Coast audiences, each with a couple of slight differences. And, while the West Coast audience got absolutely screwed in one case (They seriously replaced a Paul McCartney cameo with a…Kim Kardashian cameo?! Yikes! Sorry, LA), they did get one small bonus. Towards the end of the show, they got to see Brian Williams pose as a sexist version of classic NBC newsman David Brinkley.
Williams, who's guested on 30 Rock a few times and clearly has a good sense of humor about everything (even about his daughter's blooming acting career) stepped in to the West Coast feed to replace the East Coast's Jon Hamm (another friend of 30 Rock who made multiple appearances, including an outrageously hilarious blackface bit, in both versions) to do a parody of The Huntley–Brinkley Report.
The entire 30 Rock episode was an ode to live TV, using the framework of Kenneth (Jack McBrayer) describing his favorite live moments as a way to do a bunch of goofy sketches. In this instance, Chet Huntley (played by Alec Baldwin) and Williams' Brinkley can't seem to wrap their head around the idea that reporter Jamie Garnett is actually a woman (Tina Fey).
The whole thing was pretty great and Williams seemed to be having a good time as always. But, seriously, it's never going to make up for that Kardashian/McCartney thing. That's just deplorable.
Watch the clip from NBC below:
Have a tip we should know? tips@mediaite.com