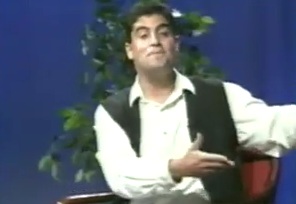 Viewers of Current TV's The Young Turks might get the idea that host Cenk Uygur and his crew are a relatively new band of progressive broadcasters, and even fans of TYT's long-running internet and radio shows might not know just how long they've been toiling away. Tonight, that all changes, as Uygur and co. celebrate their 10th anniversary, and debut the trailer for a Valentine of a documentary for their fans.
From The Young Turks' press release:
On February 14, 2012, The Young Turks Network celebrates its 10 year anniversary. Over the past decade, The Young Turks have continually informed hundreds of millions of viewers and listeners across the globe on the latest issues trending in politics, pop culture, lifestyle and sports.

The Young Turks transcended platforms to become the largest and longest running daily Internet show accumulating over 670 million views on YouTube since their launch in 2005.  Today they average over 30 million views a month.

Producer and Host Cenk Uygur says, "Our ten year anniversary is a celebration of all of these people coming together to make an independent show happen. Together we've been fighting the power for the last ten years and the establishment better watch out, because we're just getting started."
Although currently parked at a burgeoning cable news network that's struggling to grow its audience, The Young Turks has undeniably come a long way since its debut as an internet-only show back in 2002. Along with a long stint on satellite radio, and a run as part of the Air America radio network, The Young Turks pioneered new media penetration with its livestream and chartbusting YouTube clips.
Host Cenk Uygur became known to a wider audience when he signed on as an MSNBC contributor and fill-in host, and was later given his own show at 6pm. The unnamed hour, however, didn't capitalize on the host's identity, or that of The Young Turks. When MSNBC decided to replace him with Rev. Al Sharpton, Cenk refused to accept an offer of a different time slot, and aired out his differences with the network (which they disputed) following his departure. The host has earned the enmity of some on the left for his sometimes strong criticism of President Obama, and detractors on the right for his vocal criticism of conservatives, but you always know exactly what he thinks, even if it means he has to say it to a smaller audience.
Departed MSNBC star Keith Olbermann was more than happy to add Cenk Uygur to the fledgling Current TV primetime lineup, and the rest, as they say, is very recent history. Current wisely opted to keep Cenk and his band of Young Turks intact, and designed a show to fit their vibe, rather than the other way around.
One of the more remarkable things about The Young Turks story is the fact that Cenk managed to collect a rather large family of contributors and crew along the way, and brought them all with him to Current TV. I've been a TYT listener/viewer since they debuted on Air America in 2006, and almost all of the "family" members who were on the air then (with the exception of Jill Pike), like longtime co-host Ben Mankiewicz,  Jayar Jackson, Jesus Godoy, and producer Dave Koller, and who were added since then, like Ana Kasparian, are on the Current TYT, along with a growing stable of contributors. It couldn't have been easy to convince Current to bankroll such an expansive roster (especially given the network's shoestring production budgets), but it's that mixture of voices, and Cenk's interaction with them, that gives The Young Turks its identity.
As part of their 10th anniversary show tonight, TYT will debut the trailer for an as-yet-untitled documentary about Cenk and the show he built. While it features the kind of high school yearbook-embarrassing cable access clips that you'd expect, it also promises a real-time glimpse into the behind-the-scenes wrangling over the MSNBC deal, and even less varnished opinions than those featured on the show:
As long as I've known Cenk Uygur and his TYT crew, they have had detractors who were, and are, sure they wouldn't go anywhere. Some would joke that, at Current, they still haven't gone anywhere. Everything is a huge success and a huge failure when it's just getting started. However, if the last ten years are any indication, they will keep going, wherever the media currents take them, and they'll be who they are.
Have a tip we should know? tips@mediaite.com