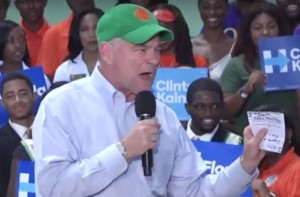 During a campaign rally in Tallahassee today, Democratic vice presidential candidate Tim Kaine invoked "Ku Klux Klan values" in an attack on Donald Trump.
The Clinton campaign has been sounding alarms about how racists and white nationalists are not only publicly embracing Trump, but Trump is sending them dog-whistles.
Kaine took all those arguments and took them a step further today:
"He has supporters like David Duke, connected with the Ku Klux Klan, who are going around and saying Donald Trump is their candidate because Donald Trump is pushing their values. Ku Klux Klan values, David Duke values, Donald Trump values are not American values. They're not our values."
Watch above, via CNN.
UPDATE –– 11:00 pm ET: The Trump campaign has responded in a statement provided to Mediaite:
"Tim Kaine's policies are responsible for the economic suffering in so many of our inner cities, and for preventable violence that takes too many young lives. Like Hillary Clinton, his policies have produced only more poverty, joblessness, and failing schools. He is part of the Wall Street machine and rigged system that is betraying and failing minority communities in this country, while grinding Americans down to keep enriching himself and his friends. These repulsive and repugnant lies perpetrated by a desperate Clinton-Kaine campaign are nothing more than flailing attacks from failed politicians unable to defend their abysmal records, and seeking to deny Americans the change they deserve. It's the lies and cynicism of Hillary Clinton and Tim Kaine versus the hope and optimism of Donald J. Trump and Mike Pence."
[image via screengrab]
— —
Follow Josh Feldman on Twitter: @feldmaniac
Have a tip we should know? [email protected]
Josh Feldman - Senior Editor