TIME Editor: Netanyahu 'Manipulating' American Election System With 'Red Line' Speech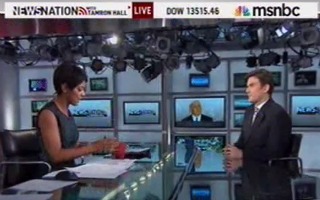 TIME Magazine's international editor, Jim Fredrick, appeared on MSNBC following Israeli Prime Minister Benjamin Netanyahu's address to the United Nations on Thursday to provide his instant analysis of the speech's political impact. Fredrick said that President Barack Obama probably would not appreciate his "hand being forced" to either publicly agree or disagree with the red line laid out by Netanyahu in an election year. Furthermore, Fredrick those who have accused Netanyahu of "manipulating" the election system for his political gain were probably correct to do so.

RELATED: Israeli PM Netanyahu Literally Draws 'Red Line' For Iran Nukes In Stern U.N. Speech
"We have factors to put into place here," said MSNBC anchor Tamron Hall. "Most importantly, we're in a general election. And we have Governor [Mitt] Romney attempting to use the president's words against him regarding Israel. I think it's important to note that Benjamin Netanyahu specifically said, under the Obama administration, strict sanctions were put into place and they have worked – praising, if you will, the Obama administration. But with all of that said, his speech boiled down to, there is an imminent threat. He compared it to the Holocaust as well. He believe that action must be taken within the next year it sounds."
"It will be interesting to see, within the next day or two, how the Obama administration responds," said Fredrick. "It's been abundantly clear that Obama had not been – has not appreciated having his hand forced by Netanyahu."
"Netanyahu has absolutely realized that this is an election season," Fredrick continued. "Has been accused, probably rightly so, of manipulating certain parts of the U.S. election system to what he perceives to be his benefit."
Fredrick said that Netanyahu's speech, in which he detailed the specific red line which would require a military to Iran's uranium enrichment program, would not be well received in the White House.
Watch the clip below via MSNBC:
> >Follow Noah Rothman (@Noah_C_Rothman) on Twitter
Have a tip we should know? [email protected]