Tommy Chong to Fox Hosts: Your Gruber Coverage Is 'Like Benghazi All Over Again'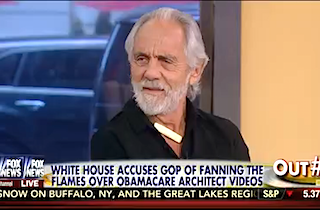 Tommy Chong, star of such films as Up in Smoke and until this week a contestant on ABC's Dancing With the Stars, was the #OneLuckyGuy on Fox News' Outnumbered (for some reason) Wednesday, and while he was there he weighed in on issues like marijuana legalization (naturally), health care, and immigration. But when the issue of Obamacare "architect" Jonathan Gruber's controversial comments came up, Chong surprised the show's co-hosts by comparing it to another hot topic on Fox: Benghazi.
Andrea Tantaros and Harris Faulkner were expressing outrage over Gruber's comments and the Obama administration's reaction to it when Chong decided instead to shift the focus over to Fox and its heavy coverage of the story.
"To me, it's just another attack on Obamacare, from another angle," Chong said. "Sounds like Benghazi all over again."
"Well, no, it's an attack on the American people for how, quote, stupid we are," Tantaros replied, perhaps not understanding what Chong was getting at. Later, she asked Chong if he thinks it's OK to "lie" to the American people about policy and get away with it.
"It is called politics, of course," he responded. "American politics is based on lies."
"You have to define what stupidity means, you know," Chong said at the end of the segment. "If you are opposing universal health care based on rumors of lies, then that it is a stupid way to be."
Watch video below, via Fox News:
[Photo via screengrab]
— —
>> Follow Matt Wilstein (@TheMattWilstein) on Twitter
Have a tip we should know? tips@mediaite.com