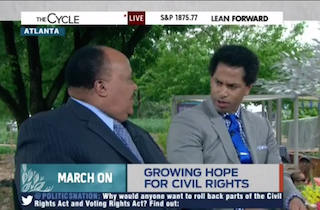 On Friday, MSNBC's The Cycle traveled to Atlanta to interview the son of Dr. Martin Luther King, Jr. and during the conversation, Martin Luther King III ended up surprising host Touré by suggesting that African-Americans should be trying to "engage" with tea party groups.
"Do you think today, the modern Democratic Party does enough to earn the overwhelming support it receives from black people?" Touré asked King. "Is it taking black people for granted in a way?"
King said that the answer to Touré's question is "yes," adding "the party does not do enough." But it's also the black community's "responsibility to hold the Democratic Party accountable."
"We're not a monolithic people," King continued, saying that while he happens to be a Democrat, he does not see any problem with black people who choose to be Republican or Independent. "I also think it's important to be engaged with the tea party," he added.
That comment took Touré aback. "Why would it be important for us to be engaged with the tea party?" he asked.
"Because the only way you change is that you have to be at least communicating," King said. "If there's no communication, then you can't just let someone have an agenda." He compared the current situation to the way his father would meet with whites how were against equal rights.
On the issue if whether the tea party's opposition to President Barack Obama is based on his policies or his race, King said it's a combination, but that the policies can act as a "mask" for the true reason some oppose him.
"Right now, we are dealing with race issues constantly in this country," King said. "And why we choose to run from them as opposed to confronting them head on is always a mystery to me."
Watch video below, via MSNBC:
[Photo via screengrab]
— —
>> Follow Matt Wilstein (@TheMattWilstein) on Twitter
Have a tip we should know? tips@mediaite.com