Transgender Advocate to CNN's Jake Tapper: 'No Excuse' for Denying Manning 'Medical Necessity'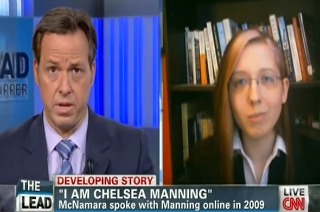 On Thursday's The Lead, CNN's Jake Tapper interviewed Lauren McNamara, a transgendered friend of Pfc. Bradley Manning's. Manning announced on Thursday that, in spite of his conviction for providing Wikileaks with American national security secrets, he would seek hormone therapy in prison in order to become "Chelsea Manning." After Manning was denied that treatment, McNamara told Tapper that the former Army private was being cruelly denied a "medical necessity."

McNamara told Tapper that, in her communications with Manning, she never expressed her desire to seek gender reassignment treatment or surgery. However, "she identified as a gay man at the time."
"There's evidence that she was considering transitioning as early as 2010, if not earlier," McNamara said. She added that Manning was unable to pursue hormone therapy because of prohibitions on the practice in the American military.
"Do you think this has anything to do with what happened with Wikileaks or is it separate and apart from the situation?" Tapper asked.
RELATED: Decision Reached on Whether Bradley Manning Will Get Treatment To Become 'Chelsea Manning'
"I think it directly related to the decisions she made," McNamara replied. She said that it is possible the Army could have avoided Manning's leaking documents because they prohibit trans-people from service.
Asked about the Army's decision to deny Manning access to hormone drugs, McNamara said that the military was withholding critical medical treatments.
"This is a medical necessity," McNamara said. "All major professional medical bodies recognize that the most effective and recommended standard of care for gender dysphonia is transitioning."
"It's highly effective and, without it, gender dysphonia can be comorbid with depression, anxiety, self-harm, even suicide," McNamara added. "This is legitimately a life-threatening condition. And to deny someone treatment for this just because they're in prison is similar to denying them treatment for depression or for diabetes or if they needed an organ transplant."
Watch the clip below via CNN:
—
> >Follow Noah Rothman (@NoahCRothman) on Twitter
Have a tip we should know? tips@mediaite.com