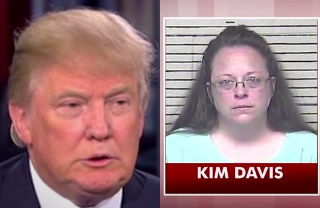 Donald Trump is known for having decisive positions on all kinds of issues, but the question of what should be done about the Kentucky court clerk who has refused to issue marriage licenses to same-sex couples and has now ended up in jail, seemed to cause some problems for the GOP frontrunner on Friday's Morning Joe.
Trump was asked about the case during his NYC press conference on Thursday but said he didn't know all the details and wasn't ready to comment on it. After everything that happened last night, he obviously did not feel he could dodge this question again.
"I'm a believer in both sides of the picture," a non-committal Trump said. "I would say the simple answer is let her clerks [issue the licenses.]" But apparently, they cannot do so without her authority.
"It's really a very, very sticky situation, a terrible situation," he added, suggesting the same-sex couples who want licenses should just drive an extra 30 miles to a location that will provide them as they are legally bound to do. "I hate to see her put in jail," Trump said of Davis.
RELATED: Ted Cruz: If Kim Davis Gets Punished for Not Following the Law, Obama Should Be Too
At this point, Joe Scarborough jumped in to say, "The bottom line is, though, the Supreme Court makes a decision, that's the law of the land, right?"
"You have to go with it," Trump finally admitted. "The decision has been made and that's the law of the land."
Watch video below, via MSNBC:
[Photo via screengrab]
— —
>> Follow Matt Wilstein (@TheMattWilstein) on Twitter
Have a tip we should know? [email protected]