Trump Responds To Cher's Attack On Romney: 'She's Somewhat Of A Loser,' Who's 'Very Miserable'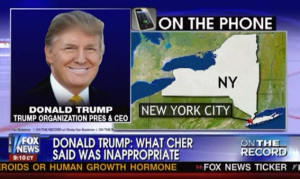 Cher had some fighting words for Mitt Romney, drawing criticism from Romney supporter Donald Trump. On Monday, Trump called in to Greta Van Susteren to discuss the comments and his response. All of which happened, of course, on Twitter.
Trump said:
Cher said some very unflattering and nasty things about Governor Romney, and I think it was inappropriate, what she said, frankly. […] I've watched her over the years, I knew her a little bit, and, you know, she reminds me of Rosie [O'Donnell] with slightly more talent. Not much more talent, but slightly more talent.
Cher's tweet in question read: "If ROMNEY gets elected I don't know if i can breathe the same air as Him & his Right Wing Fascist Homophobic Women Hating Tea Bagger Masters."
Trump responded with:
.@Cher attacked @MittRomney. She is an average talent who is out of touch with reality. Like @Rosie O'Donnell, a total loser!

— Donald J. Trump (@realDonaldTrump) May 10, 2012
He added: "@Cher should stop with the bad plastic surgery and nasty statements about good people running for office. I can't stand her computer enhanced voice or music."
Trump told Greta, "Cher is somewhat of a loser. She's lonely, she's unhappy, she's very miserable, and her sound-enhanced and computer-enhanced music doesn't do it for me, believe me."
Trump said Cher's attack on Romney was simply unfair. Regarding his battles, he said, "people seem to like it," offering up his 1 million-plus follower count as evidence.
Take a look, via Fox News:

Have a tip we should know? tips@mediaite.com