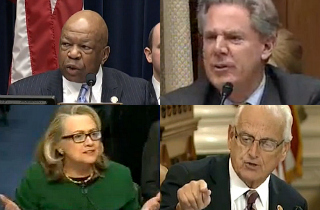 Representative Elijah Cummings (D-MD) let House Oversight Committee Chair Darrell Issa (R-CA) have it Wednesday morning, erupting in condemnation against the Republican's "one-sided" hearings into the IRS.
It's not the first time a Democrat has lost his or her cool in the GOP-controlled House, which often leads partisan inquests against the conservative bugaboo of the day. (And some legitimate ones against the ACA rollout debacle.) Hey, if you had to sit through 10,000 Benghazi hearings, maybe you'd yell, too.
Bill Pascrell
Representative Bill Pascrell (D-NJ) leapt out of his seat during an October hearing on the Affordable Care Act's implementation, vociferously contrasting the GOP's obstinate refusal to cooperate on Obamacare with the Democrats' salesmanship of Bush's Medicare Part D. "And how many of you stood up to do that?" Pascrell demanded. "None! Zero."
He wasn't done. After Representative Tim Griffin (R-AR) tried to claim that the GOP had put forward health care reform alternatives, Pascrell cried, "Are you really serious? After what we've gone through and what we've gone through in the last three and a half years? We've gone through 44 votes, 48 votes now of you trying to dismantle the legislation. You call that cooperation?"
Frank Pallone
In perhaps the most glorious of all outbursts, Representative Frank Pallone (D-NJ) decried a hearing on the ACA as a "monkey court."
"I started out in my opening statement saying there was no legitimacy to this hearing, and the last line of the questioning certainly confirms that," Pallone said, referring to claims made by Representative Joe Barton (R-TX) about the law's privacy provisions. "HIPAA only applies when there's health information being provided. That's not in play here today. No health information is required in the application process. And why is that? Because pre-existing conditions don't matter. So once again, here we have my Republican colleagues trying to scare everybody—"
"Will the gentleman yield?" Barton attempted.
"No, I will not yield to this monkey court or whatever this thing is!" Pallone responded.
"This is not a monkey court," Barton replied.
Eric Holder
Issa and Attorney General Eric Holder have been at each other since Issa became the Oversight Committee Chair, and it came to a head last May during questioning about transparency in a civil rights case. Issa rather snarkily accused Holder of witholding portions of emails to conceal details from the committee, and that was the last straw.
"That's what you typically do," Holder said, and continued talking over the parliamentarian. "That is inappropriate, and it is too consistent with the way in which conduct yourself as a member of Congress. It's unacceptable and it's shameful."
Elijah Cummings
The Cummings-Issa feud continued this morning, when Cummings used his time for questioning to condemn Issa's hearings.
"I am tired of this," he continued. "You cannot just have a one-sided investigation. There is absolutely something wrong with that, and it is absolutely un-American."
Issa adjourned the hearing, and told the press outside that Cummings was "slandering him" during his statement. Meanwhile, Cummings continued to object to the proceedings even after his mic had been cut off.
Hillary Clinton
And the most famous of them all, so famous that I don't even need to intro it:
[Image via screengrab]
——
>> Follow Evan McMurry (@evanmcmurry) on Twitter
Have a tip we should know? tips@mediaite.com