Unlike 'Hated' Bush, Hillary's Shoe-Throwing Incident a Moment for Her Memoir — Says CNN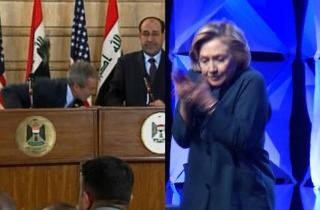 Two projectile shoes hurled at American political figures separated by just over five years. Two similar events, but you would barely recognize that from the coverage of those incidents if you only watched CNN.
While one incident was covered with all the gravity of an attack on the homeland, a metaphor for failure and repudiation encapsulated in one significant episode, the other was no where near as "threatening" and might make the cut as memoir material.

"You may not like President [George W.] Bush's politics, but one thing you can say for sure is that the man has great reflexes," then-CNN anchor Alina Cho told foreign correspondent Michael Ware in the wake of the December, 2008 incident in Iraq.
Ware marveled at the fact that Bush joked about the situation and attempted to "turn the incident to his advantage," as opposed to dwelling ruefully on his shoe-administered repudiation.
"Bare in mind that, in Iraqi culture, throwing a shoe is close to the ultimate insult," Ware noted. Unlike in the United States, where shoe-throwing is a traditional feature of weddings and christenings.
"This may become the press conference of the Iraq War that everyone will remember," Ware later reported. He noted that this insult is "reserved only for the most hated."
Flash forward to 2014 and an eerily similar event in which former Secretary of State Hillary Clinton is on the receiving end of an airborne shoe hurled at her by an irate audience member, albeit an American one.
Clinton, too, attempted to joke about the incident after it occurred — striking a tone that Brianna Keilar did not find as discordant as Ware had. "The latest incident, nowhere near as threatening," Keilar observed of the attack on Clinton which anchor Wolf Blitzer called "terrible."
"Perhaps an item for her new memoir," Keilar added, "which her publisher said this week will come out in mid-June." … Keilar only failed to that it can be pre-ordered on Amazon.com.
Presumably, this incident will be included in an upcoming Clinton memoir for lack of other relevant material. When your own former ambassador is delivering obituaries for one of your signature policies — or the signature policy, as some would argue — it is understandable why one might reach for lighthearted moments like these to fill space.
[Photo via CNN.com]
 — — 
> >Follow Noah Rothman (@NoahCRothman) on Twitter
Have a tip we should know? tips@mediaite.com