Wallace Fights Dem Rep. on Benghazi Email: 'White House Was Telling Susan Rice What to Say'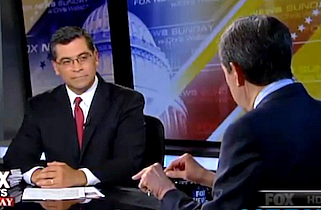 On Fox News Sunday, host Chris Wallace questioned Representative Xavier Becerra (D-CA) over whether House Democrats would participate in the new Benghazi select committee, headed up by fellow guest Representative Trey Gowdy (R-SC).

Becerra, who brought the results of numerous previous Benghazi investigations with him to the show, continued to hold them up as evidence that the incident had thoroughly investigated. But Wallace argued that despite the multiple investigations, information like the Ben Rhodes email was still only just coming to light. Becerra replied that the email showed nothing new and Wallace knew it.
"I don't agree with that," Wallace said. "I think it shows something dramatically new. It shows that despite what the White House has been saying for the last year and a half, it shows that inside the White House they were telling Susan Rice was to say."
RELATED: Bachmann, Wasserman Schultz Clash Over Whether Dems Are 'Sabotaging' Benghazi Investigation
Becerra also clashed with Gowdy over Democratic inclusion in the committee. "We've participated in all the other seven investigations," Bacerra said. "If it's a fair and balanced* process, absolutely. But we don't want to see reckless, irresponsible handling of an affair that took the lives of four dead Americans."
"I don't run my committees the way the Democrats are fearful of," Gowdy replied. "I want a process that at the end of it, you are welcome to draw different conclusions from the facts, but I want everyone to say that it was fair, it was exhaustive, and we know more than we did it when it started…How does it benefit me, when I have said from day one I want this to transcend politics and I want it to inspire trust in you and our fellow citizens, how does it benefit me to do any of the things you just listed?"
* "I love the fact that you're adopting the Fox News slogan," Wallace responded. "You could do worse."
Watch the clip below, via Fox News:
[Image via screengrab]
——
>> Follow Evan McMurry (@evanmcmurry) on Twitter
Have a tip we should know? tips@mediaite.com