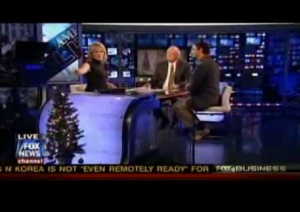 Fox News Channel organized what America Live host Megyn Kelly accurately dubbed the "best panel ever," comprised of Catholic League president Bill Donohue and president of the American Atheists, Dave Silverman. The two men discussed — what else? — the divisiveness and alienation some non-Christians feel this time of year, particularly when faced with a veritable twinkling forest of Christmas trees.
According to a new study out of Canada, land of friendly woodland creatures and godless heathens, people who are not Christian feel threatened and alienated by the presence of Christmas trees, which are found everywhere from churches to bail bond offices this time of year. Researchers at Simon Fraser University placed participants in rooms that either contained or did not contain a small Christmas tree and asked them to answer a series of questions. The researchers determined that those who did not celebrate Christmas were "less sure of themselves" than their Christian brethren when placed in a room with a Jesus Tree.
Silverman argued places of business are no place for talk of either politics or religion (unless, of course, politics and/or religion happen to be your job) and are, as such, no place for religious displays such as Christmas trees, nativities, menorahs or lukewarm puddles of Manischewitz. Donohue countered by suggesting that those who have a problem with Christmas and the holiday's signature tree should be placed in institutions (the Church included) and gently offered what he described as an "Irish" remedy: Drinking. Nothing offensive about that.
Have a tip we should know? tips@mediaite.com