Wasserman Schultz: Gay Marriage Is 'The Civil Rights Issue Of Our Generation'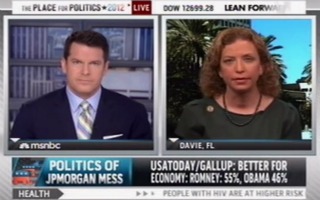 Democratic National Committee Chair Rep. Debbie Wasserman Schultz (D-FL) appeared on MSNBC with anchor Thomas Roberts on Tuesday to address the findings in a new CBS/New York Times poll released on Monday night which showed two-thirds of voters believe President Barack Obama decided to back gay marriage as a matter of politics and not as a personal belief. Wasserman Schultz told Roberts that the poll indicates how far Americans have come in accepting gay rights, and said that Obama believes in gay marriage rights. "This is the civil rights issue of our generation, said Wasserman Schultz.

RELATED: Bret Baier Grills Debbie Wasserman Schultz Over Stalled Budget: 'You Know How Congress Works'
Roberts first asked Wasserman Schultz to weigh in on a new USA Today/Gallup poll that shows Republican presidential candidate Mitt Romney leading Obama among voters on the matter of "who would improve the economy the most." That poll found Romney leading Obama by 55 to 46 percent on that question.
"What do you feel the President needs to do – needs to do in the next few months – to make sure that that impression is turned around so that impression is changed," Roberts asked Wasserman Schultz. "How do you fight that?"
"Well that same poll also showed that the majority of Americans are very optimistic about their own financial future," said Wasserman Schultz.
"Do you think that's because they think there will be a new president in place," interrupted Roberts.
"Thomas, if you look at that same poll, it also said that the overwhelming majority of Americans polled there believe that President Barack Obama will be reelected," said Wasserman Schultz. "What President Obama needs to continue to do is focus on creating jobs and getting this economy turned around."
Roberts turned to the CBS/New York Times poll which found that 67 percent of voters believe that President Obama decided to back gay marriage rights "for political reasons" as opposed to the 24 percent who said he expressed support for gay marriage because "he thinks it is right."
"The Washington Post then reported last week that one-in-six Obama bundlers are LGBT, so how do you answer that, that some people may perceive that the President is pandering and doing so for voters," asked Roberts.
"As someone who represents one of the largest LGBT communities in the country, I think it's actually awesome that we've come so far in advancing the rights of the LGBT community that people would question that it's a good thing politically for a President of the United States to come out for marriage equality," said Wasserman Schultz. "That shows the progress that we've made."
"This is the civil rights issue of our generation," said Wasserman Schultz. "President Obama came out for marriage equality because he believes in it personally. He believes that no one should be discriminated against and that the laws of our country should reflect an opportunity for equality for all Americans – regardless of their choices, regardless of their sexual orientation, regardless of their race, gender, or their sexual orientation."
Watch the segment below via MSNBC:
Have a tip we should know? tips@mediaite.com