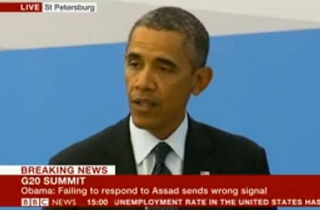 At a joint press conference at the conclusion of the G20 summit Friday afternoon, President Obama concluded his opening remarks by announcing that he will address the nation, and the world, on the issue of military intervention in Syria. As Congress debates a resolution to strike Syria in retaliation for the August 21 chemical weapons attack that reportedly killed over 1400 civilians, the President says he will make " the best case I can."
Just before what would become a lengthy 42-minute grilling by the traveling press, the President spoke about the consequences of inaction, saying such inaction would "send a signal to rogue nations, authoritarian regimes, and terrorist nations that they can develop and use weapons of mass destruction, and not pay a consequence. That is not the world we want to live in."
He said he was "encouraged" by his discussions with world leaders at the G20, although later in the presser, the President described a meeting with Russian President Vladmir Putin that was "productive," but changed little.
"Here In St Petersburg," the President continued, "leaders from Europe, Asia and the Middle East have come together to say that the internatIonal norm against the use of chemical weapons must be upheld, and that the Assad regime used these weapons on their own people, and as a consequence there needs to be a strong response. The Arab league foreign ministers had said it calls for deterrent and necessary measures against the culprit of this crime."
"I will continue to consult with Congress, and I'll make the best case I can to the American people, as well as to the international community, for taking necessary and appropriate action, and I intend to address the American people from the White House on Tuesday," President Obama said. "The kind of world we live In and our ability to deter this kind of outrageous behavior is going to depend on the decisions that we make In the days ahead, and I'm confident If we deliberate carefully and choose wisely and embrace our responsibilities, we can meet the challenges of this moment as well as those in the days ahead."
Many members of Congress have expressed reservations, some due to reactions they're hearing from constituents. A presidential address will be crucial in assuaging those reservations. The political wind is currently blowing in the direction of avoiding an entanglement, so the President's task will be to shift it toward avoiding the next potential chemical weapons attack, and/or proliferation of those weapons to terrorists.
Here's the President's announcement, via BBC 24:
Have a tip we should know? tips@mediaite.com