Watch the Full Unhinged Trump-Cuomo Interview: 'You're Acting Out of Fear!'
Cuomo to Trump: 'You're Acting Out of Fear!'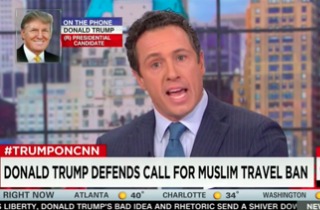 Chris Cuomo's interview with Donald Trump went completely off the rails this morning on CNN's New Day as they battled over the implications of his extreme call from yesterday to ban all Muslims from coming into the country.
Cuomo opened up the interview by noting how Trump's idea is the latest in a series of positions leading to serious division and condemnation on both sides of the political spectrum. To this, Trump claimed the attacks in San Bernardino and Paris are proof that Muslims are trying to infiltrate and destroy America, and that "we have no choice but to do exactly what I said until our country's representatives can figure out what the hell is going on."
Cuomo reiterated that the idea of rejecting an entire religion is the antithesis of American values and freedoms, and pushed back saying "you're acting out of fear, not making us look strong, and rejecting what America is all about."
As things went on, Trump continued to boast of his poll numbers, his tough image and how it will prevent another 9/11 type of attack, while Cuomo brought up how Trump was trying to start a fight with all of Islam, all while proposing ideas that have been compared to fascism and created massive political divides.
This battle continued as Cuomo noted how many political experts considered Trump's plans to be unhelpful if not "stupid," while Trump carried on about how Muslims were harbingers of America's imminent destruction and must be kept out "until we figure this out."
There's so much more that could be said, but its far better if you watch for yourself above, in its entirety, via CNN:
[image via screengrab]
Have a tip we should know? tips@mediaite.com