We're Seriously Doing This Again? Media Continues Rampant Speculation Over Chris Christie's Intentions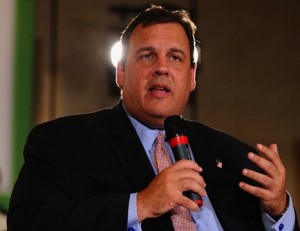 This is the second week in a row I have watched the Sunday talk shows and been bombarded by more Chris Christie coverage than I was expecting. The prospect of Christie running for president is certainly an interesting one, but I can't think of any candidate (not counting ex-governors of Alaska) who has garnered the kind of speculative media coverage that the New Jersey governor has received over the past several months.
I know doing another column on this may seem redundant, but the Christie media coverage itself is one big redundancy. On Face the Nation today, Bob Schieffer asked all three of his guests, a senator and two governors, about a possible Christie candidacy. Earlier today on Fox News Sunday, Bill Kristol continued to push for Christie to get into the race, to which fellow panelist Brit Hume responded by comparing Christie supporters to "a pack of dogs chasing a car" (below). Almost every single Sunday morning news show brought him up. Why? What is so endlessly fascinating about a Christie candidacy that no one seems to be able to shut up about it?
There have been conflicting reports recently over whether Christie is actually reconsidering a run or not. According to the New York Times, Christie's political advisors are figuring out how quickly it would take them to set up operations in key primary states if their boss decides to get in the race. But according to NorthJersey.com, two anonymous Republican sources admitted that while Christie and his team were considering their options, the governor will end up not running.
Did no one learn ANYTHING from his speech at the Reagan Library? He referred the media and the public to a video compilation by Politico featuring every single one of his "NO" answers. (Which means if Christie does change his mind and run, boy is that going to look pretty bad in hindsight.) Every time I read yet another post about how Christie isn't definitively out of the race yet, my immediate reaction is to say "Cool story, bro" and move on. It's honestly hard to care anymore.
RELATED: Leave Chris Christie Alone: Neverending 2012 Presidential Rumors Hurt Republicans
Speaking as a New Jersey native, I like Christie's personality and would certainly welcome his voice into the GOP field. But even his mock threat of suicide didn't stop the speculation. Is he the one fueling it? No. He's definitively ruled it out multiple times. All the speculation comes from anonymous sources and insider tips, nothing from the man himself. And you would think if he was in the process of thinking about considering maybe the possibility of one day hopefully getting the opportunity to decide to run for the presidency, he wouldn't have so adamantly said "NO." If the media is talking about Christie, obviously, this being a media website, we're going to bring it up. But narratives typically don't last this long. Even Sarah Palin, a notable exception to the rule, hasn't been covered recently nearly as much as Christie has. And with conservatives concluding that her entire drawn-out candidacy is a joke anyway, she probably won't get that kind of coverage ever again.
And at this point, it's not even news anymore that Christie isn't as conservative as many would like to think he is. Chris Christie is like the Duke Nukem Forever of presidential campaigns: everyone is bating their breath in anticipation for the announcement, but when it eventually happens, it's going to be a huge disappointment.
I mean, at least people stopped caring about Donald Trump when he said he wasn't running. He hit the limit on his yearly 15 minutes of fame, he ended it, and it was over. But aside from a few national media appearances here and there, Christie's main priority has been governing the state of New Jersey. Which, by the way, is his job.
At this point in our nation's history, it would be utterly futile to wish for a time when presidential candidates were not speculated about with such eagerness and excitement. But could we all agree to just stop covering the ones who have said repeatedly they're not interested? Herman Cain, a real live presidential candidate, was on This Week today, and among all the questions about policy and Rick Perry's "N*ggerhead" hunting camp controversy, he was asked to weigh in on the possibility of Christie joining the race. Yes, we've hit that point in the race where presidential candidates are asked to weigh in on other possible presidential candidates. It's as if you're saying to their face, "No one cares about you, they like this other guy better, what do you think?"
I guess what I'm saying is this: shut up about Chris Christie and get back to covering the people who are actually running.
Watch Fox's Brit Hume's comments on Gov. Christie below:
Have a tip we should know? tips@mediaite.com
Josh Feldman - Senior Editor