White House Advisor Links GOP Spending Cut Demands to Criminal, Terrorist Threats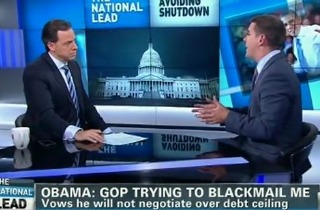 White House advisor for strategic communications, Daniel Pfeiffer, appeared on CNN's The Lead with Jake Tapper on Thursday where he reiterated President Barack Obama's administration's insistence that they will not negotiate over the next increase of the nation's debt ceiling. Pfeiffer equated the GOP's wide-ranging demands associated with raising the debt ceiling with threatening to burn down someone's house or a suicide bombing mission.

"If they include something he knows for a fact cannot pass the Senate, then he is making a decision to shut down the government," the White House advisor said of House Speaker John Boehner (R-OH).
"What the House Republicans are not asking for negotiation," Pfeiffer insisted. "It's a negotiation if I'm trying to sell you my house and we are debating the price of it. It is not a negotiation if I show up at your house and say, 'Give me everything inside or I'm going to burn it down.'"
RELATED: Who's Really 'Threatening Default'? Carney Spars with ABC's Jon Karl Over Gov't Shutdown
Pfeiffer said that the Congressional Republicans are essentially attempting to pass "the Romney agenda" or they will "blow up the economy."
Tapper asked about a Bloomberg poll which showed that 61 percent of the public favor spending cuts associated with an increase in the debt ceiling. "Why not cut some spending?" Tapper asked.
"We are for cutting spending," Pfeiffer insisted. "What we're not for is negotiating with people with a bomb strapped to their chest."
Watch the clip below via CNN:
[Photo via screen grab]
— —
> >Follow Noah Rothman (@NoahCRothman) on Twitter
Have a tip we should know? tips@mediaite.com