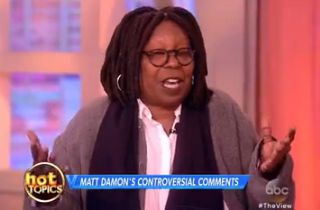 Whoopi Goldberg used today's episode of The View to weigh in on a couple of controversial comments from Matt Damon that some have taken to imply that he told gay actors to stay in the closet.
Damon's controversy began when he told The Guardian in an interview, ""I think you're a better actor the less people know about you period. And sexuality is a huge part of that." Damon later offered clarification for his comments on The Ellen DeGeneres Show, where he said his words were misconstrued.
"I was just trying to say actors are more effective when they're a mystery," Damon said. "It is painful when things get said that you don't believe, and then it gets represented that that's what you believe."
While talking about the upcoming film, The Martian, Goldberg strongly disagreed with Damon's statements, saying that whether the audience is aware of an actor's sexuality or not should have nothing to do with his/her performance.
"I played a gay woman in Color Purple, a man in The Associate, and we're actors," Goldberg said. "We're supposed to be able to play everything and play it convincingly. So, I don't think whether you know, or think or believe I'm gay has nothing to do with what my abilities are. As an actor that's how I feel."
Goldberg also noted how even actors can't really keep up their "mystique" anymore since everyone who tries to keep themselves private usually manage to get "outed" in the end. "People tell your business whether you tell your business or not," Goldberg said.
You can watch the discussion in the video above:
[h/t TheWrap]
[Image via screengrab]
— —
>> Follow Ken Meyer (@KenMeyer91) on Twitter
Have a tip we should know? tips@mediaite.com