'Why Would He Take a Swing Like That?': John Dickerson Grills Conway on Trump's CIA Criticism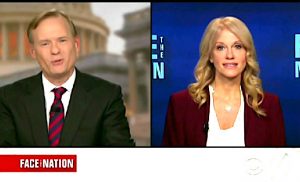 Trump campaign manager and senior adviser Kellyanne Conway appeared on CBS's Face the Nation to defend President-elect Donald Trump's reaction to news that the CIA has concluded that Russia interfered in the election to help Trump.
Host John Dickerson pressed Conway on whether Trump will want to cooperate with any investigation into these hacking allegations, which is now supported by Democrats and Republicans, considering he's called the reports "ridiculous."
Conway responded by pivoting to narratives pushed by Hillary Clinton's campaign on why they would win the election, using that as a way to explain that Russians influencing the election for Trump is also false.
Dickerson pushed back, telling Conway that he wanted to know Trump's opinion on the intelligence community, especially since he's now had intelligence briefings as president-elect. When Conway stated that the conclusions center on false narratives, while also bringing up Reince Priebus's insistence that the RNC wasn't hacked, Dickerson came back regarding Trump's statements on certain briefings.
"I'm just trying to get a sense of the new President-elect's views on the intelligence community," Dickerson stated. "The reason I ask is he's had a lot of intelligence briefings and when he was asked about this questions which is coming from the intelligence community he said it was not a talking — it was a laughing point. In other words, the notion that the Russians were involved in the election was laughable."
He then asked Conway how Trump can respect the intelligence community while simultaneously calling their findings laughable. "It's completely compatible," Conway replied. "He absolutely respects the intelligence community."
The CBS host hit back, asking why the transition team put out a statement after the CIA story came out slamming them over their intelligence surrounding WMDs in Iraq.
"Why would he take a swing like that at these people he's now got to work with?" Dickerson asked Conway. When Conway tried to pivot about the validity of the current report, Dickerson pressed back, once again asking why he would take a disproportionate response by bringing up the CIA's worst moment.
Watch the clip above, via CBS News.
[image via screengrab]
–
Follow Justin Baragona on Twitter: @justinbaragona
Have a tip we should know? tips@mediaite.com