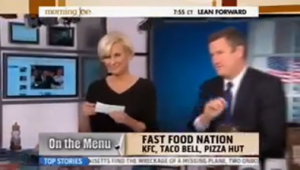 David Novak, CEO of Yum! Brands (/the dude responsible for the bulk of my caloric intake), stopped by the set of Morning Joe Monday to discuss his various fast food restaurants' healthier offerings — and to impart a message. It is ultimately up to the individual consumer, he said, to make healthy decisions for themselves, whether it comes to eating fast food in moderation, selecting better food options, or choosing when and how often to exercise. "The bottom line," he said, "is you're accountable for what you do." Your decision to eat half your body weight in Bugles while crying alone in your bedroom is totally on you, bruh.
RELATED: Joe Scarborough Labels Mika Brzezinski A 'Food Nazi' After Twinkies Argument
Things grew heated when host Joe Scarborough defended his right to indulge in comfort food when he sees fit. "Please," he said, directly facing co-host Mika Brzezinski, "and I'm dead serious about this, don't take that option away from me, because that's none of your business."
Brzezinski turned things back to Novak, asking him what responsibility his company should take in people's food choices. "If you probably did some studies on who bought what," she said, "you'd see some real glaring divisions in the members of different levels of society that buy what food, and how educated they are, and how economically stable they are."
Novak said his companies' responsibility is to give customers what they want, pointing out that many actually are asking for healthier options as they try to cut back on things like fried foods, hence the introduction of items of "Kentucky Grilled Chicken."
He then gifted Brzezinski with some coupons I'd really like to borrow if she doesn't plan on using them.
Watch what happened, via MSNBC:
Have a tip we should know? [email protected]