Fox's Shep Smith: Nobody Thought Zimmerman Jury Selection Would Be 'Easy,' But This Is 'Off The Chain'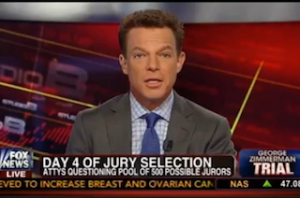 With jury selection in the George Zimmerman murder trial continuing for a fourth day, Fox News' Shepard Smith looked at the distinct lack of progress lawyers on either side are making towards securing a jury. And now that Judge Debra Nelson has announced that jurors in the case will be sequestered, it may only get more difficult.
Smith reviewed some of the reasons that have thus far led potential jurors to be dismissed, from one person who claimed Zimmerman was innocent because of photos from Trayvon Martin's cell phone that were presented by the defense of TV to another who posted on Facebook in relation to the trial, "I CAN tell you THIS. 'Justice' IS Coming." And more potential jurors said they feared for their safety if they were placed on the trial. "Nobody thought this was going to be easy," Smith said, "but this is off the chain."
Fox legal analyst Arthur Aidala attempted to help Smith understand just what is going on here, but he was just as baffled by the process as it was being handled by the judge, prosecution and defense team. He criticized Judge Nelson for just now deciding to sequester the jury and couldn't believe how long the lawyers were taking to question each individual person. "These lawyers are standing there, and they're talking to one juror at a time and the judge doesn't seem to be putting any time limits on them.
In conclusion, he added, "they're cross-examining the potential jurors like they're the main witness at a trial and that's how they're trying to get a very impartial jury that can decide the case on the facts at trial, not what they heard on a website or read in a newspaper."
Watch video below, via Fox News:
—
>> Follow Matt Wilstein (@TheMattWilstein) on Twitter
Have a tip we should know? tips@mediaite.com