Hannity And Panel Gang Up On GOP State Senator For Denouncing Hank Williams, Jr.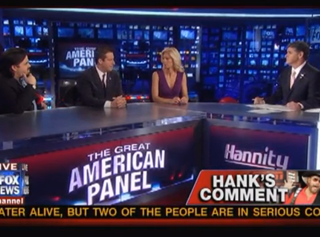 Sean Hannity is very upset that his Monday Night Football has been irreparably damaged by the absence of Hank Williams, Jr., after the country singer compared a meeting between President Barack Obama and Speaker John Boehner to "Hitler and Netanyahu playing golf" (???). He dedicated the first segment of his Great American Panel tonight to Williams, where most of the panel agreed he should be forgiven– with the one holdout, New York Republican State Senator Greg Ball, taking something of a rhetorical beating for demanding consequences for Williams' comments.
RELATED: ESPN Pulls Hank Williams Jr. Monday Night Football Theme After His Obama-Hitler Comparison
"Why do people always want to– 'ah, that's it, no more Monday Night Football!'" Hannity argued, receiving support from panelist Deirdre Imus. The latter lamented that "unfortunately, anyone who uses that analogy [the Hitler one] gets hammered," and thus "they blew what he said out of context." But Hannity returned to his original point: "Could you imagine Monday Night Football without Hank?!" Fellow panelist and Tea Party activist Tony Katz added the disproportionate outrage element to their side of the debate, noting that ESPN radio hosts had allowed Mike Tyson to discuss "the rape of Sarah Palin" with immunity, a far more offensive and unnecessary topic.
RELATED: Hank Williams Jr.'s Idiotic Excuse For Hitler Obama Comparison: 'To Make A Point'
All was in concord until Sen. Ball jumped into the fray. "I think it's a pretty stupid comment," he noted, deriding Williams for "show[ing] up to the show dressed like the Unabomber" and generally being unprofessional and unthoughtful. Just that last comment prompted a shoutfest, with Imus trying to explain to Sen. Ball that "that's who he is" and Hannity explaining that "he's a country singer" and the glasses were the product of an accident. Sen. Ball insisted, however, that that "doesn't make a difference, and that "any disgusting comment like that… people should be held accountable," particularly in cases where a contract demands that "he's not supposed to be engaging in political activity."
The segment via Fox News below:

Have a tip we should know? tips@mediaite.com