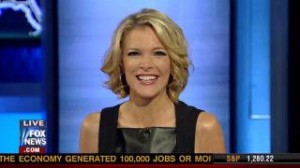 Megyn Kelly is not exactly the first person one would imagine who had their parents joke that they were too ugly to get married, and yet it's still something she yells at her mom about, the Fox News anchor tells Elle magazine this week– along with explaining how a tenth-grade career quiz told her to be a journalist and, in her current job, what it takes for her to ban someone from the show.
RELATED: Fox's Megyn Kelly Has A Problem With 'Coronal Mass Ejection'
The short interview— one of several in a series Elle calls "TV's Wonder Women" featuring several executives, comedy writers as well as Kelly as the lone newswoman– touches on the hazards of the job, appearance anxiety and friendliness on and off the air. On the former point, Kelly notes that her family never considered her appearance to be a strong point– in fact, her parents used to joke that she wasn't pretty enough to ever get married:
You know, I was not an attractive child—I never had a cute face. I remember my parents joking, "She's gonna be with us for a long time," which I still yell at my mother about! She just says, "Oh, Meg, those were some rough years." But it helps to not place much value in those things. Obviously, I'm in a visual business, and people will talk to me about my appearance. Yes, it's better in my industry to be perceived as attractive, but it truly isn't something I have my self-worth wrapped up in, because it's something I didn't have for a lot of my life and wasn't taught to value.
She also told Elle what it takes to get banned from her show (expletive-laden tirades, for starters) and revisited the one interview she wishes she could do again: her "epic discussion" with Kirsten Powers in summer 2010 on the New Black Panther Party. "In retrospect, I wish that I had not been as contentious with [Powers] as I was," Kelly admits, adding that the two are friends and both said apologies over the exchange.
You can read the full exchange here.
Have a tip we should know? [email protected]