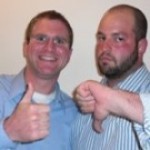 Who: Jimmy Fallon interviewed by Bill Carter
What: The New York Times' Arts & Leisure Weekend
Where: The Times Center
When: January 8, 2009
Thumbs: At our palms, applauding
Jimmy Fallon is almost a year into hosting Late Night with Jimmy Fallon and, unlike other NBC late night hosts, he has surpassed a lot of expectations, including- it seems- his own. Fallon told the story of his rise to Saturday Night Live, his self declared failure in movie making, and his return to late night, and he stated it with uncommon humility and honesty. He cast himself as a break-catching kid who happened to be both in love with SNL and incredibly good at impressions.
While it is true that his strength lies in his impersonations, it's a disservice to himself to belittle that talent. When discussing his Adam Sandler impression, it was clear that he put a lot of thought into how to capture people. Beyond that, Fallon is a natural performer. He treated the interview as his stage and brought out much of his diverse array of impressions, including Bill Cosby, Jerry Seinfeld, Howard Stern, Gilbert Godfried, Barry Gibb, Mick Jagger, Dana Carvey and Michael McDonald, to name a few.
"I'll do my show at 3 in the morning. I'm just happy to have a show"
But it's not just Fallon's natural talents that have led to the success of his show. Fallon has harnessed the power of the internet and social media. More than most celebrities, he seems to understand the role technology plays in people's lives. Fallon got a lot of practice for his show by hosting webisodes before going live. He also has 2.3 million twitter followers and he understands twitter etiquette (tries to keep it to 3 links a day). "Thank god for the internet," Fallon said, "it's made us as successful as we are." That, and the natural talents he put on display have indeed transformed Fallon from an impressionist to a Late Night Host.
What They Said
"Are you sure you don't want to do this a half hour later?"
– Jimmy Fallon's first words of the night. Rosanne Cash's preceding time slot was not moved to bump Fallon
"I love that NBC tried something different. Who knows? Maybe it would have worked."
– Jimmy Fallon gives NBC credit for trying, which is more than anyone else is giving NBC
"You had this bizarre obsession as a child and ended up succeeding… there are probably a lot of people who have been doing this and not getting on SNL"
– Bill Carter commenting on Jimmy Fallon's success, as –somewhere- the entire student body of the Upright Citizen's Brigade nods its head.
"Time doesn't really matter. We're in a different age. I don't even know what time Jersey Shore is on"
– Jimmy Fallon explained that in the DVR and online video age, it doesn't matter what time his show is on
"Right before we started, Justin Timberlake turned to me and said 'Don't screw up the harmonies. I'm serious.' I felt like Lance Bass."
– Jimmy Fallon recounts the moments before the first "Barry Gibb Talk Show" sketch
What We Thought
Bill Carter began the night the only way that made sense – by asking Fallon if they should address the elephant in the room. Fallon claimed ignorance and said "we're just going to keep doing our show" before saying to Carter "everything you wrote is right." Carter stole the exchange by telling Fallon "maybe I'll let you know what happens."
Jimmy Fallon is very humble and self-aware, and frank about his limitations. Many times over the night he thanked writers, producers and others by name. And it was not just Lorne Michaels either. Michael Shoemaker, Gavin Purcell, and Amy Ozols were all singled out repeatedly.
We loved Bill Carter's suggestion that there is a correlation between musical acumen and the ability to impersonate others. Maybe it's about finding rhythms?
Fallon obviously cares about his fans. Not only does he respond to twitter messages, but he found a way to force Bill Carter to let him take every question from waiting fans. He worked the room to keep it interesting and to give them that opportunity.
PANEL RULES
Some audience behavior seems to repeat itself panel after panel. We'll be updating a running list of "PANEL RULES!" that will help ensure that you are not the dweeb of the Panel Nerds.
Panel Nerds Don't Like… In-turn Interns
Look, a lot of people are waiting to ask Jimmy Fallon a question. It's probably not the right venue to ask him to be an intern. It's definitely not the right venue to press him on it when he brushes you off the first time. We get that you're a fan. Next time, just ask about the cowbell sketch.
Panel Nerds Don't Like… The Others
There are a lot of things to ask Jimmy Fallon about: SNL, Jay Leno, his show, etc. Why would you ask him something completely other and outside of him. "Are you a huge Lost fan? What's your favorite Lost moment?" is just about the strangest question we're yet to hear. And that is saying something.
Have a tip we should know? [email protected]