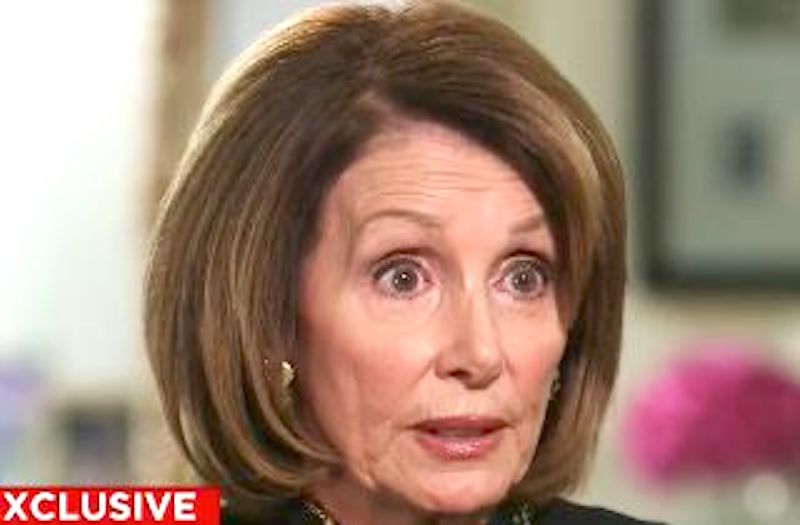 After months of violent disruptions at peaceful political gatherings including January's presidential inauguration in Washington D.C., House Minority Leader Nancy Pelosi has finally issued a brief statement condemning Antifa. The statement, published by the Washington Times, comes after the latest violent disruptions by Antifa at University of California Berkeley, adjacent to Pelosi's congressional district in San Francisco:
"Our democracy has no room for inciting violence or endangering the public, no matter the ideology of those who commit such acts," the California Democrat said in a statement. "The violent actions of people calling themselves antifa in Berkeley this weekend deserve unequivocal condemnation, and the perpetrators should be arrested and prosecuted."
The statement comes after Fox News contributor Lisa Boothe's on-air campaign to publicly shame Pelosi and other Democrats for their months of silence while the black-clad, anonymous Antifa brigades stormed peaceful protests across the country.
Boothe took to Twitter to congratulate Pelosi on her courageous stand.
However, as this column pointed out Tuesday, the media continues to ignore or downplay the issue and let Democrats off the hook by not demanding that they condemn Antifa in no uncertain terms and without equivocation.  In fact, following the cable and network news lead in how they cover such issues and seemingly reluctant condemnations, shouldn't Pelosi be compelled to do more than merely issue a terse statement on this issue?  Shouldn't she sit with multiple news outlets so she can be asked the same question over and over again?
And shouldn't CNN conduct multiple round-table discussions populated by pundits hostile to Pelosi and her politics asking each other "what took her so long?"
And shouldn't we now see cable and network news demand that Al Franken and Bernie Sanders and Elizabeth Warren and Chuck Schumer all follow Pelosi and condemn Antifa?  And if they don't shouldn't they ask those same Democrats if they disagree with Pelosi's condemnation?  Shouldn't the media now spend its precious air time trying to divide the Democrats on the issue of Antifa pitting one faction of the party against the other demanding that each politician either take the side of violent Antifa or take the side of Pelosi's belated and reluctant, half-hearted condemnation?
That's the narrative we're used to seeing play out in the media over these kinds of topics. Shouldn't we see an even-handed approach when the issue puts Democrats on the spot?  Yes, we should. Will we? What do you think?
This is an opinion piece. The views expressed in this article are those of just the author.