Trump Campaign Manager Corey Lewandowski Charged in Alleged Battery of Michelle Fields
The campaign manager of Donald Trump has now been charged with alleged battery in connection with an altercation with a former Breitbart reporter.
ABC News took to Twitter moments ago to confirm:
JUST IN: Trump campaign manager Corey Lewandowski charged in alleged battery of Breitbart reporter.

— ABC News Politics (@ABCPolitics) March 29, 2016
On Tuesday March 8, Corey Lewandowski reportedly got physical with Michelle Fields, then a reporter for Breitbart Media, launching several weeks of accusations that ended with Fields and Editor-at-Large Ben Shapiro leaving Breitbart altogether. The latter had accused Lewandowski of being a "thug," and the media organization they represented was criticized for not standing by its reporter; six staffers in total left Breitbart as a result.
Shortly following the incident in Jupiter, Florida, Fields filed a police report against Lewandowski, and published the following photo to her Twitter account after both Lewandowski and Trump denied that the confrontation took place:
I guess these just magically appeared on me @CLewandowski_ @realDonaldTrump. So weird. pic.twitter.com/oD8c4D7tw3

— Michelle Fields (@MichelleFields) March 10, 2016
In a statement released on March 11, the Jupiter Police Department said in part, "As with any investigation, specific details concerning criminal investigative information is not releasable while the investigation is considered active." While the Trump team, including spokesperson Katrina Pierson, continued to deny that Lewandowski was directly involved, video emerged from the night in question that would appear to show the campaign manager in fact grabbing for Fields' right arm while she angled to ask Trump a question.
The Donald Trump campaign quickly released the following statement in response to the charges brought against Lewandowski, saying in part, "Mr. Lewandowski is absolutely innocent of this charge. He will enter a plea of not guilty."
Trump Camp statement on Corey Lewandowksi charges pic.twitter.com/Oq6R0QP4rH

— Hadas Gold (@Hadas_Gold) March 29, 2016
Jupiter police today released the surveillance video above of the incident, showing Lewandowski grabbing Fields (dressed in a white blazer) near the bottom of the frame.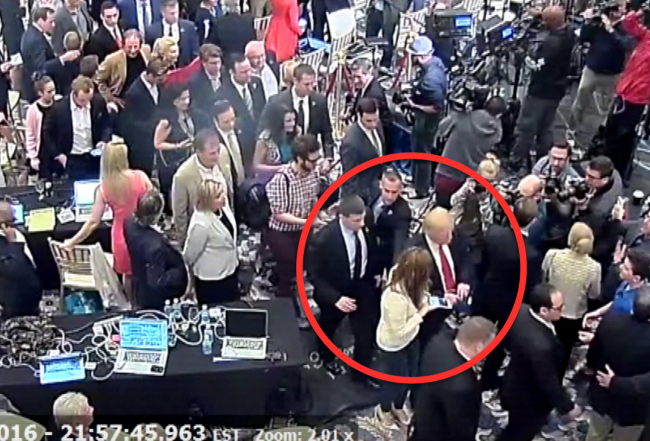 Have a tip we should know? tips@mediaite.com