The Philly food scene is popping off, and people are taking notice. Han Dynasty, a popular Philadelphia restaurant, opened in New York City and immediately became one of the top spots for Szechuan Cuisine. Philadelphia restaurateur Stephen Starr opened one of New York City's best restaurants, Upland, in 2014.
Michael Solomonov is a James Beard Award-winning Israeli Chef and restaurateur in Philadelphia. He cooked at Vetri, a popular Italian spot for a while, but in 2003 his life changed. His brother David had volunteered for duty on Yom Kippur for a military campaign, and he was killed by snipers. After his brother's death, Solomonov switched his focus to Israeli cooking, and in 2008 he opened Zahav with his partner Stephen Cook. He told the New York Times: "I felt that through this restaurant I could share the experience of my brother's life with everyone."
The restaurant is thriving — we snagged a reservation but have to wait 2 months to go. In October of 2015, Solomonov released a cook book called Zahav: A World of Israeli Cooking. It is dedicated to his brother and contains over 300 pages of recipes for different types of tehina, salads, mezze, soups, rice dishes, brisket, chicken, and pretty much everything else Israeli that you could imagine.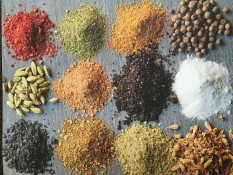 The first thing you'll notice about the book is that it's beautiful looking- the cover is big and bright blue. The photos inside are also amazing. Colorful salads, fish dishes and vegetables fill the page along with pictures of his family; you really feel like you're getting to know Solomonov and his world. The recipes are varied, interesting, and have a range of difficulties, from simple weeknight meals and sauces, to move involved entrees you might make more of a project of. He shows you how to modify recipes to stick with what's in season, and shares his philosophy on his Kosher-ish cooking style.
The best part about the book is the way Solomonov shares his story. He's open and honest, and you get to learn a lot about him and his story, even the not so flattering parts. He talks about getting the call from his aunt when his brother died and shares that he's battled addiction. He's passionate, and it shows through in his recipes. We get to meet his wife and his children. The book is not only full of great recipes, but it's an interesting read. We plan to make some of his recipes this weekend and can't wait to get to Zahav- despite the 2 month wait!
Have a tip we should know? tips@mediaite.com