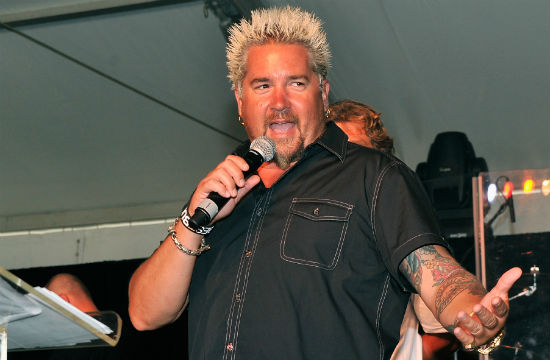 On last night's Food Network Star, Bob Tuschman and Susie Fogelson returned to weep over what has become of their network choose three of the four remaining contestants' pilot pitches to greenlight. Sourpuss went home, leaving Awkward Sexy, Nancy Mohawk, and Fedora Pie to shoot pilots directed by none other than Food Network Star's ratings boon Guy Fieri.
Awkward Sexy went with a how-to style show called Eat Date Love, which teaches men how to "trap" women with Southern Food, which she claims is the true food of love. Let us tell you, boys, nothing makes us want to take our clothes off faster than stuffing our sexy little faces with a massive, doughy sweet potato biscuit, slathered in apple mustard, and piled high with pork roast. Check out her pilot below.
Then, Fedora Pie kicked it with Eric Greenspan at his restaurant The Foundry on Melrose to shoot a throwdown-type show, where he visits restaurants, and the chef bets him he can't make their signature dish into a pie. God, what we wouldn't give to see Eric's outtakes on this one.
And, finally, Nancy Mohawk taped his pilot Guilty Pleasures, which had something to do with someone's signature Cabernet Sauvignon ice cream, and then him making his own bacon-bourbon ice cream, and maybe this is why the judges told him his idea wasn't quite cohesive yet?
So now, IT'S UP TO YOU, AMERICA. One of these three contestants is going to be clogging up your Food Network airwaves someday soon and it's up to you to choose the most bearable of the three. And we swear to god, if you choose Fedora Pie, we will never forgive you. Vote here.
RELATED:
WATCH: Eric Greenspan Delivers Blistering Richard Blais Diss In Melt Master Outtakes
WATCH: Food Network Star Doesn't Know What Pilaf Is, Alton Brown Finally Calls Someone Out
One Of The Food Network Star Contestants Is Already Totally Famous, This Seems Unfair
Have a tip we should know? tips@mediaite.com