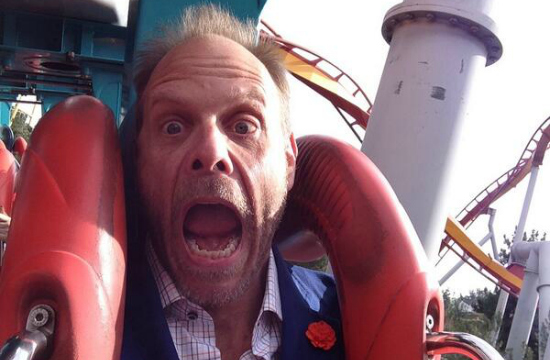 Nothing says snow day like curling up with a hot beverage and wading through your Twitter feed in search of gems. Today, our cup runneth over with photos to warm our hearts despite the Bombogenesis (literally: weather bomb) we've decided to ignore. If you're one of the unfortunate ones braving the piles of dirty slush instead of drawing your curtains and making that second bowl of ramen, here's what you've missed.
1. Alton Brown Takes Selfies on Roller Coasters Stars, they're just like us! (Except they wear fancy suits at amusement parks?)
I'm on the silver bullet @Knotts pic.twitter.com/gio9fUAOhY

— Alton Brown (@altonbrown) January 21, 2014
2. Big Gay Ice Cream gets creative on a day no one wants ice cream. And now we're kind of craving "the salty pimp".

Welcome to the ice (cream) age. pic.twitter.com/O0blHDCR7l

— Big Gay Ice Cream (@biggayicecream) January 21, 2014
3. Chef José Andrés enjoys a midmorning glass of wine and watches the snow fall introspectively. We wish we could get away with stuff like that on a Tuesday.
I'm having a glass of wine and watching the snow fall @jaleotapasbar …..looks like 20 years ago when I arrived… pic.twitter.com/LRHpKCiAXK

— José Andrés (@chefjoseandres) January 21, 2014
4. Kate Krader introduces us to Spam-flavored Macadamia Nuts. And we will buy them off Amazon even if they are ridiculously expensive.
What they're snacking on in SF. @chezpim @KinKhao. Attn @RidingShotgunLA #spam pic.twitter.com/Bpzkvsykv3

— kate krader (@kkrader) January 21, 2014
Have a tip we should know? tips@mediaite.com