Rocket Attacks Reportedly Strike Near Kurdish TV Station, U.S. Consulate in Iraq, Videos Show Huge Explosions (UPDATE)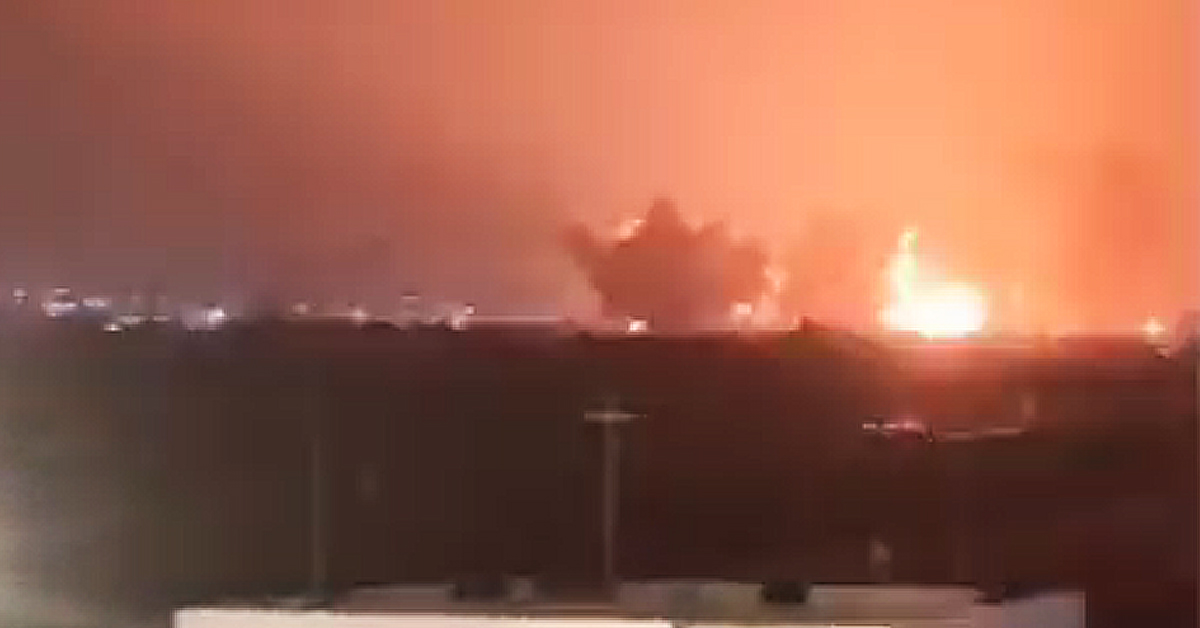 Iraqi State TV, Sky News Arabia, and the Jerusalem Post are reporting explosions in Erbil, Iraq following apparent rocket fire into the city. The attack is reportedly near an under-construction U.S. consulate.
The news is breaking on Twitter, and some of the details are still in flux, but most outlets report that Kurdish satellite channel k24 suffered a hit.
Sky News Arabia reported that "the headquarters of the US embassy, ​​which is being built in the city of Erbil, northern Iraq, was targeted with five long-range missiles.
صورايخ تستهدف مقرا للسفارة الأميركية قيد الإنشاء في أربيل https://t.co/LEhixivCVJ

— سكاي نيوز عربية (@skynewsarabia) March 12, 2022
Here's more from the Jerusalem Post:
The governor of Erbil, Omed Khoshnaw, stated that multiple missiles fell in the area, saying it was unclear whether the target was the US consulate or the airport in the city. According to INA, five explosions were heard in the attack.
Photos and video are being shared online, some of which purport show damage in a k24 studio.
Several rockets landed near the U.S. Consulate General in #Erbil, #Iraq

According to the national Iraqi news agency, so far there have been at least three explosions in the city and alarm sirens are sounding. pic.twitter.com/QjQvqUnOFi

— NEXTA (@nexta_tv) March 12, 2022
#Kurdistan24 studio….. pic.twitter.com/VgkjoWTNK0

— Barzan Sadiq (@BarzanSadiq) March 12, 2022
Another video of the explosions that occurred in Erbil. pic.twitter.com/hm1dBotKUr

— Mustafa Saadoon (@SaadoonMustafa) March 12, 2022
#BREAKING
The moment of missile attack on US consulate in #Erbil pic.twitter.com/5u7tpsCaWy

— Bashar Azeez (@bashargwani) March 12, 2022
UPDATE 9:35 A.M. Sunday — Iran's Revolutionary Guard has since taken responsibility for the attack, releasing a statement through its official Sepha News site. The group is claiming that the missiles were in response to Israeli actions in the last week, as recently tensions between the two have been rising.
The head of Kurdistan's foreign media office announced that the missiles did not actually strike the U.S. consulate compound.  According to the Kurdish interior ministry, the missiles were launched from outside of Iraq, not specifically naming Iran.
U.S. officials are still unclear on how large the missile assault was, uncertain how many were launched and exactly where they landed. However, there has been no indication of damage at any U.S. government facility and no signal that the consulate was the target of said attack.
This is a developing story and will be updated.
Have a tip we should know? tips@mediaite.com
Caleb Howe - Contributing Editor