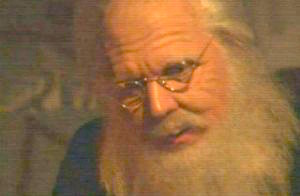 Glenn Beck is not crazy. That's why, last night, he acted out a whole scenario in which he's a 90-year-old man in the year 2054 proving just how not-crazy he is. Beck got makeup and hair to make him look like a feeble old man, 40 years in the future, where (I'm guessing, it's never directly said) progressives have turned the United States into some kind of authoritarian hellhole where chips are implanted into your arms and good, honest people like Beck have been forced underground.
Beck starts out the bit by saying, "My name is Glenn Beck. I used to be somebody. I don't really remember quite who, except I was American."
Yes, the whole thing was very like that, with Beck declaring 2014 the year that began America's downfall. His evidence? Ferguson riots, ISIS, the Keystone pipeline, and climate change. Yes, this was "the year of the dawn of progressivism" and "the end of capitalism" for Beck, and clearly, 40 years later (a time period in which I'm assuming Republicans were completely excised from government otherwise how could this happen in the first place), it has proven to be a nightmare for the country.
Beck invoked Hitler at one point to say that was "where we lost our way," and even said at one point, "I'm not crazy. I was naive, but I was not crazy."
You can watch this unbelievable one-man show here, via BlazeTV:
[h/t Raw Story]
[image via screengrab]
— —
Follow Josh Feldman on Twitter: @feldmaniac
Have a tip we should know? tips@mediaite.com
Josh Feldman - Senior Editor