House Majority Leader Eric Cantor suffered a crippling primary defeat tonight at the hands of Dave Brat. But you might ask yourself: who's Dave Brat? Well, Brat is an economics professor who's been teaching at Randolph-Macon College since 1996. He and his wife Laura have two children, Jonathan and Sophia, and they live in Henrico, Virginia.
He mounted a local political run back in 2011, but lost. This year he got into the race against Cantor as a tea party challenger, receiving a great deal of support particularly from conservative radio host Laura Ingraham.
In fact, his Facebook page banner is currently a picture of Brat, his family, and Ingraham.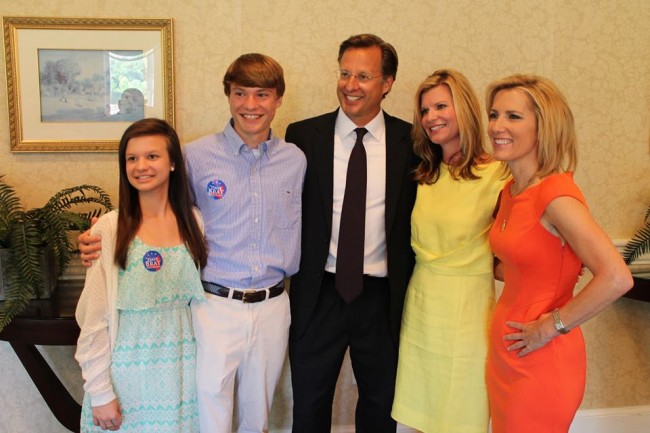 Brat told ABC News last month that Cantor used to have a good track record, but that, Brat says, is history. Cantor fostered a "crony-capitalist mentality" according to Brat, and he has accused Cantor of being too liberal on issues like immigration reform.
A poll released last Friday showed Cantor just above 50 percent, compared to 40 percent for Brat. Two years ago, Cantor easily beat his primary opponent with 79 percent of the vote.
You can watch video of Brat below, via ABC:

ABC US News | ABC Celebrity News
Update- 9:03 p.m.: Brat, like most professors, is on RateMyProfessors.com, and if you're looking for an indication of how young people view this possible future Republican congressman, look no further. Here are some of the comments:
He's so charming and really knows how to incorporate real world examples to keep the class exciting and relateable. He change assignments a lot and sometimes it's unclear what he wants you to do. Plus he's total eye candy!!
He changed the assignments almost everyday. he never had set schedule for anything. he was forgetful of quizzes. For his papers, no one ever understood what he wanted for us to do. he was almost never there when we needed help. he read the book in for students to follow and lastly, he graded very critically without first giving you guidlines.
Brat changes assignments all the time, but he is so charming, you forget to be mad at him.
had several courses with him; difficult for him to stay on material, sometimes difficult to follow, but he drills the material into your head; will seriously say the same thing in about 10 different ways to make sure you get it. not that hard
Update- 10:36 p.m.: You can watch Brat's appearance on Hannity tonight HERE.
[image via screengrab]
— —
Follow Josh Feldman on Twitter: @feldmaniac
Have a tip we should know? tips@mediaite.com
Josh Feldman - Senior Editor