ABC News' Jonathan Karl Talks To Mediaite About Romney's Potential V.P. Pick That Could Reset The Race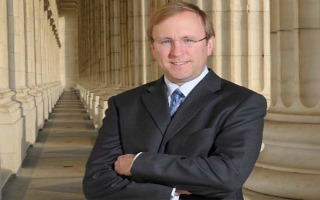 It is often the case that ABC News' Senior Political Correspondent Jonathan Karl drives the news cycle as much as he reports on it. In the last two months, Karl has filed several reports that have reframed the national debate. He shocked the political world with the report that Sen. Marco Rubio (R-FL) was not being vetted for the vice presidency. Karl got the famously stoic former Vice President Dick Cheney to open up about his feelings about former Alaska Gov. Sarah Palin. Just this week, Karl reported that Mitt Romney's campaign has put their top vice presidential choices on standby. Recently, Karl sat down with Mediaite to discuss his knowledge of the campaign cycle and share his thoughts on a possible vice presidential contender which many political observers have written off, but the Romney camp has not. That pick could reset the entire presidential race in the coming days.

As ABC News' senior political correspondent since 2010, Karl has been shaping the conversation not just for analysts covering the campaigns but the campaigns themselves. As a Washington-based reporter, Karl says that there is no substitute for his sources within the campaigns for getting unique pieces of information. However, he says that for getting detailed and layered information in real time from the campaigns, he relies on the ABC News' campaign embeds. "We have a terrific embed with Romney – Emily Friedman," said Karl.
In June, Karl reported that Sen. Rubio, a conservative favorite, was not being thoroughly vetted by the Romney campaign as a potential running mate. The furor that erupted forced the Romney camp to reverse course and commit resources to vetting Rubio. Karl compares that moment to the scene in All The President's Men when a story leaked out to the press that FBI Director J. Edgar Hoover is going to be replaced. The story forces President Lyndon Johnson to make an astounding about-face and name Hoover FBI director "for life."
"The key thing about that story is what I had reported was that there was no request to Rubio to turn over all the personal information that normally goes along with vetting," said Karl. He says that it is possible that the campaign was only at the initial stages of vetting Rubio through public documents and that the process could have become more thorough without his report. "It's possibly going to a question of how you define 'vetting,'" said Karl. However, there is no question that his reporting forced the Romney campaign to vet Rubio at a quicker pace than they likely would have preferred.
In July, Karl landed a groundbreaking interview with Cheney who made news when he was openly critical of Sen. John McCain (R-AZ) and his selection of Palin to be the 2008 GOP vice presidential nominee. Karl attributes landing that interview and getting Cheney to reveal his thoughts about Palin to months of groundwork and a compete knowledge of the players.
"It was an interview that I'd been working on getting for months," said Karl noting that at some point after Cheney's heart transplant surgery, it stood to reason that he would give an interview. Karl simply made sure that he would be the first.
As for Palin, Karl said that he had always suspected that Cheney never thought that was a good move by the McCain campaign. "I also know that Cheney is no big fan of John McCain's," said Karl. "McCain called for [former Secretary of Defense Donald] Rumsfeld to resign several times, and Cheney is close to Rumsfeld."
Recently, Karl has been on the watch for Romney's soon-to-be-announced vice presidential pick. He says that the process this cycle for the Republican presidential candidate has been "less chaotic" than it was with McCain. "There is very little information coming out of Boston on the vice presidential selection process," says Karl.
He does not, however, anticipate the Romney camp to shock the nation with an out-of-the-blue choice in the way the McCain campaign surprised nearly every political observer. "Most of the people covering this thing say it comes down to [Ohio Sen. Rob] Portman or [former Minnesota Gov. Tim] Pawlenty," says Karl. "I added [Wisconsin Rep.] Paul Ryan in there. I think there is a 20 percent chance that it could be Marco Rubio, or they pull somebody else out like a [New Hampshire Sen.] Kelly Ayotte. But it wouldn't' be a total shock the way Palin was. No [Oklahoma] Gov. Mary Fallin."
Karl scooped the political world again this week when he announced that he had learned the Romney campaign had narrowed their vice presidential picks down significantly and had told at least two potential candidates to be on standby for an announcement that could come at any moment. Portman and Pawlenty made Karl's list, but political observers were surprised that he thought the selection of Ryan was just as likely. In fact, Karl thinks much of the political wisdom that sees Ryan as a detriment to the Romney ticket is undone by the former Massachusetts governor's personal support for both Ryan as a politician and his embrace of the House Budget Committee chairman's controversial Path to Prosperity budget reform proposal.
"I think Romney has already embraced the Ryan budget and I think they're fully aware that they're going to get attacked on it whether he's there or not," said Karl. "Ryan is the best person to defend against those attacks on the ticket."
"His only experience is as a member of Congress, so there are a lot of reasons why you could imagine it would not be him, but he has one very big believer and that is, I believe, Romney himself," said Karl. "I think the only opinion that matters is Romney's."
Karl thinks, ultimately, that the conventional wisdom that dismisses the impact a vice presidential choice can have on whether or not a candidate wins that running mate's home state is wrong. Romney will derive geographical benefits from the vice presidential nominee and that will influence his decision. "If you have a Marco Rubio – even if he makes half a point of difference in Florida, it matters" said Karl. "Rob Portman in Ohio – that could mean the difference between winning and losing Ohio."
If Geography is the key factor, some polls suggest that Ryan performs the best of all the potential vice presidential candidates. In a recent Public Policy Polling survey of Wisconsin, Ryan drives a 6 point Obama lead in the Badger State to a tie and secures youth vote for the Romney/Ryan ticket. No other candidate comes close to that level of positive impact on their home state's electorate.
As for the state of the race, while many pundits see shades of 2004 in the reelection campaign of President Barack Obama, Karl is not so certain. "Every race has its own unique dynamics," said Karl. He went on to say that the Obama team has been doing their best to emulate the successful defining of 2004 Democratic presidential nominee Sen. John Kerry (D-MA) by Republicans prior to the conventions. The Obama campaign's successes on that front, while measurable, have been more mixed than that of President George W. Bush's reelection effort because of the headwinds Obama faces from the sagging economic recovery.
"You've got a president who, by virtually any indicator, would be heading towards defeat," said Karl. While he says that the Obama campaign has done a good job of redefining Romney's strengths and turning them into weaknesses, the question remains as to whether that will be enough to secure Obama's reelection.
"I think we're in for a good race," Karl concluded.
> >Follow Noah Rothman (@Noah_C_Rothman) on Twitter
Have a tip we should know? [email protected]