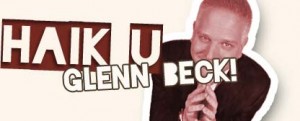 All of you Glenn Beck haters out there with the heart of an ancient Japanese poet, today is the day you've been waiting for. The group Jewish Funds for Justice, incensed at Beck's "social justice" comments a few weeks ago, has created what they're calling a "Beck Twitterstorm". Every minute from 9 am this morning till 9 am tomorrow, the group will be Tweeting anti-Beck Haikus at the man himself. The poems were written by like-minded people and collected over the past week on haikuglennbeck.com, a website set up by the group.
As you'll remember, Beck's comments that people should "run" if they see the words "social justice" in any of their church's literature got him in a bit of hot water (recording of Beck's original comments can be found here). Many religious groups complained and Beck was forced to backtrack a little. However, that wasn't enough for Jewish Funds for Justice, a group whose official website states that they were formed to help "people in the United States achieve social and economic security and opportunity by investing in healthy neighborhoods, vibrant Jewish communities, and skillful leaders."
Their Haiku Twitterstorm has been a big hit. In the past week, they have received more than 1500 poems, which is quite a lot of 17-syllable anger to send Beck's way. They even had a few celebrity contributors, like comedian Nick Kroll who wrote "glenn beck is awesome/he makes hitler and stalin/seem totally sane". The campaign has even gained the attention of the Fox News host himself, who mentioned it on his radio show. The group sent a press release to media outlets to increase the public attention.
From the press release:
"We are doing this because our organization's purpose has been to increase the very work Beck disdains, because we believe social justice can bring faiths together, because do-gooders and Nazis don't mix," said Mik Moore, chief strategy officer of the Jewish Funds for Justice. "While faith traditions may be different, the thread of social justice cuts across lines of faith. In a country increasingly torn apart by fundamentalism, undermining this thread that ties us together is dangerous."
The campaign is going on all day and readers who want to check out the Haikus can either go on Twitter and look up the hash tag topic #becku or by going to the campaign's website where readers can rank the Haikus. The top rated right now is by the user "HipsterJew" who writes "Beckstein reminds me/of the kid in my Jew school/who ate the glue stick".
We fully encourage any readers who agree with the cause to write their own Haikus. And we fully encourage readers who disagree to write their own…I don't know…limericks? That way the whole thing can keep escalating until one side has to write a Beowulf-style epic poem about Glenn Beck. Preferably with dragons in it. Either way, this is probably the most interested in poetry that Americans have been in years.
Beck may be crazy
But look at all the page hits
This post will get soon!
Have a tip we should know? tips@mediaite.com