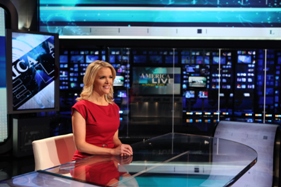 Fox News anchor Megyn Kelly is the newest FNC personality to land her own show, America Live , which debuted on February 1. The program is up 10% in total viewers and 7% in the A25-54 demo in the first quarter of 2010, while the rest of the cable news competition declined.
Mediaite talked to Kelly yesterday afternoon about Jon Stewart, Bill O'Reilly and more.
Mediaite: Let's talk about the new show, America Live which started February 1. Two months in now, how do you think it's going?
Kelly: So far so good. I feel energized by how the show's going. It's fun, it's dynamic. The viewer feedback has been great. I feel very well supported by Fox, so knock on wood, so far so good.
Mediaite: In the New York Times story in February you talked about what Roger Ailes told you about not trying to hit home runs, and going for singles. So how do you think that's been going – generating the runs, not swinging for the fences?
Kelly: I think I've hit the singles, some doubles, occasionally some triples. I'll let the viewers decide if I've hit any home runs. But I haven't gotten any negative feedback from the boss and that's always a good thing.
"I don't like when a guest comes on from either side of the aisle and tries to regale me with four paragraphs that somebody working for his party came up with that morning."
Mediaite: Have you seen any changes to the show from when it started until now? Any evolution of the show, things you thought worked particularly well or things you didn't think worked so well?
Kelly: Not really. What we've noticed is the viewers in the afternoon really want us to be on the news. If things feel too featurey they don't seem to be as interested. So we try to stay on the news. Whatever is breaking, we bring to them instantaneously. That's not to say we can't have any fun. We do a fun segment, Kelly's Court, and that looks at the lighter side of the law and we always get great viewer feedback on that, the viewers seem to like that. If we get too featurey it doesn't work as well for us.
Mediaite: Let's talk about the O'Reilly exchange that happened last week over the Westboro Baptist Church and your defense of free speech. You appear a lot on The O'Reilly Factor, how is he as a sparring partner?
Kelly: He is really fun to argue with. I'll tell you what, I've never known anybody who doesn't have a law degree who thinks he's as right on the law as Bill is. But I admire his confidence, however misplaced it may often be.
Mediaite: You've had a lot of memorable interviews with both sides of the aisle. Tucker Bounds during the campaign, as well as Bill Burton. Would you say the sense of holding public figure's feet to the fire is part of your style?
Kelly: Yeah I'll cop to that. What I don't like is talking points. I don't like when a guest comes on from either side of the aisle and tries to regale me with four paragraphs that somebody working for his party came up with that morning. If I want to see or hear that I can go online or watch their websites. I don't need to hear that on my program and I don't think my viewers want to hear that on our program. Once anybody starts doing that I'm probably going to interrupt and get them off script. And I think that's better TV and I just think it's more informative. Some people can do that and go there, some people can't, usually it becomes readily apparent who is who.
Mediaite: It seemed like that a little last week with the Voyeur club, Doug Heye who did a news-making interview, his first comments about it. It seemed you wanted to throw him off his talking points as well.
Kelly: Yeah you don't want to give a pass to either side and I try not to do that. He tried to not tell me who it was who submitted this expense for two grand or so at this Voyeur club and I pressed him in a few different ways I know how to get the name out of him. That's what they all try to do, they come on and they try to say their points and they try to obfuscate the points that aren't good for them and my job is to just keep pushing, keep pushing.
>>> NEXT PAGE: Kelly's reaction to Daily Show criticism, what non-FNC cable news show she watches and more.
Have a tip we should know? tips@mediaite.com