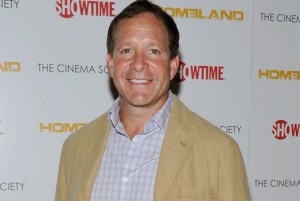 Actor Steve Guttenberg (who you may remember from Police Academy) had a Q&A with CreditCards.com recently — and, in addition to the financial questions, the interview veered into political territory. More specifically, a critique of President Barack Obama. While Guttenberg said he voted for Obama, he expressed some disillusionment, noting that "it's hard to believe in the presidency anymore."
Referring to the banking/financial mess, Guttenberg was asked, "Do you think Washington can reign in the misbehavior?" He responded:
It's hard to believe in the presidency anymore. I voted for Obama, I love Obama, but I don't want to see Obama on "The View," I don't want to see him playing Frisbee, I don't want to know that it's $40,000 a plate at George Clooney's house, and I adore George Clooney. Hey man, I've got a friend of mine who's got a $7 an hour job at Dunkin Donuts and he can't get a $9 an hour job over at the country club because there are so many people in front of him. I believe that the president should be his desk all day. I don't want to see him on vacation, I don't want to see him at Martha's Vineyard, I don't want to see Mrs. Obama in Spain. No, no, I do not want to see that because everybody's struggling. These CEOs shouldn't be taking all this money. No Rolls Royces. No private planes.
So how would Guttenberg change things? He went on to make a broader argument, pivoting back to financial issues, about investing in real estate and rather than in the market:
Here's my big point: The government should start allowing people to take their 401(k)s and invest in things other than the market. Let us invest our money in real estate, and instead of buying more shares of some inane stock, let me buy an apartment for my retirement and rent it out, and then when I'm 65, I can sell the apartment. What is this bulls— that we're only allowed to invest in equities? It's ruining the country. Let us invest in other things instead of the market. Enough already.
Guttenberg's certainly not the first to question Obama's vacations and associations with Hollywood, and certainly won't be the last.
(H/T Fox Nation; CreditCards.com)
Have a tip we should know? tips@mediaite.com